Acupuncture and TCM Books
Traditional Chinese Medicine Cupping Therapy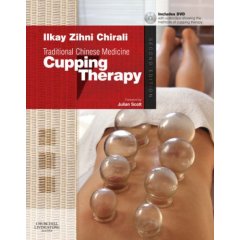 Traditional Chinese Medicine Cupping Therapy

Check New and Used Prices
By Ilkay Chirali, Member of British Acupuncture Council and Member of Register of Chinese Herbal Medicine, London, UK
Description
This new edition explores and describes techniques of cupping in the context of TCM theory. It provides a clear and detailed set of practical guidelines to applying this technique for various common conditions, and looks closely at issues of safety, expectation and theoretical principles of action.
This new edition includes new scientific research on cupping therapy and the effect on the immune system as well as new material on muscular pain, stress management and cupping therapy and sports medicine. A DVD complements the text with video clips showing the eleven methods of cupping therapy.
This book is for All TCM students Acupuncturists and TCM practitioners
Contents
Section 1 Cupping therapy
Chapter 1 History of cupping
Chapter 2 Benefits of cupping therapy
Chapter 3 Preparing for cupping
Chapter 4 Therapies that benefit from cupping
Chapter 5 The cupping procedure
Chapter 6 What to expect during and after cupping therapy
Chapter 7 Eleven methods of cupping therapy
Chapter 8 Cupping therapy on children
Chapter 9 Cupping therapy on adults
Chapter 10 How often can cupping be applied?
Section 2 Treatment of common disorders
Chapter 11 Cupping therapy in the treatment
Chapter 12 Notes on miscellaneous disorders
Chapter 13 Precautions and contraindications
Chapter 14 Sports injuries
Chapter 15 Myofascial Trigger Points cupping therapy
Ilkay Chirali
Cupping Therapy Articles
View Articles by Ilkay Chirali
Ilkay Chirali is a Member of British Acupuncture Council and Member of Register of Chinese Herbal Medicine, London, UK. He is the author of Traditional Chinese Medicine Cupping Therapy.
View Cupping Therapy Books and Supplies
Traditional Chinese Cupping Therapy books and supplies.