Veterinary Acupuncture and Anatomy Charts
Veterinary Acupuncture and Anatomy Charts
Quick easy reference for treating your animals with acupuncture, accupressure or petupuncture. Students tell us how much they appreciate the 8.5" X 11" chart design for keeping in their notebooks. They are an easy reference to look over during class. The anatomy wall posters have a great vintage look to them for your clinic.

Horse Acupuncture Poster 24" X 36"

Horse acupuncture poster. Over 170 transpositional equine acupuncture points with anatomical locations and treatment indications for each point. Five element theory and horary cycle diagrams.





Horse Acupuncture Poster Set 18" X 24"

Horse acupuncture posters. Over 170 transpositional equine acupuncture points with anatomical locations and treatment indications for each point. Five element theory and horary cycle diagrams.




Horse - Equine Acupuncture Chart Set

Unique horse acupuncture chart representing the most commonly used points in acupuncture. The back of the chart has the point locations for many of the commonly used points. Clear picture showing the muscles of the horse for easy point location




-




Dog Acupressure Acupuncture Chart

Dog acupuncture chart showing the most commonly used acupuncture points. Point locations on the back of the chart for many of the commonly used acupuncture points. 8.5" X 11" double sided laminated chart.





Cat Acupressure Acupuncture Chart

Cat acupuncture point chart showing 44 commonly used acupuncture points. The 44 Point locations are on the back of the chart along with conditions each point treats. 8.5" X 11" double-sided laminated chart.



Veterinary Acupuncture Books for Horses, Dogs & Cats
Acupuncture for Dogs and Cats: A Pocket Atlas

Skillfully integrating traditional concepts of Chinese medicine with clinical experience and modern scientific research, Acupuncture for Dogs and Cats brings together all current information in one convenient book. Its pocket atlas format, highlighted by hundreds of full-color photographs and sup-porting text, makes it ideal as a quick, user-friendly reference. Special Features o A handy double-page spread designed for fast retrieval of information-on the left, concise text describes each acupuncture point; on the right, high-quality photographs demonstrate all concepts o Bones and muscles have been precisely drawn into each photograph, a valuable tool for localization of points o A comprehensive discussion of all acupuncture points on all channels ensures that you have full mastery of the field o An introduction to the principles of Traditional Chinese Medicine (TCM), the channel network, TCM diagnostics, point selection, and point categories provides a strong foundation in the concepts of veterinary acupuncture The only book to focus solely on acupuncture for small animals, this pocket-size atlas is unique in the field. It offers a wealth of practical knowledge and a pictorial reference for veterinarians, animal acupuncturists, students, and trainees whose goal is to provide the highest level of treatment to the animals in their care. Christina Matern, DVM, is a certified veterinary acupuncturist and one of the chief founders of the German Veterinary Acupuncture Society. She has been teaching at various institutes since 2003 and has her own veterinary practice in Idstein, Germany.
---

Veterinary Acupuncture: Ancient Art to Modern Medicine
by Allen M. Schoen

This revision reflects major updating, expansion of hot topics, and coverage of trends, current areas of research interest, and controversies in veterinary acupuncture.
The book begins with the history and concepts of acupuncture and continues with the anatomic and neurophysiologic basis of acupuncture, research on acupuncture, practical techniques, instrumentation, and point selection. Part two covers acupuncture in small animals, including a canine atlas, avian acupuncture, and chapters that focus on disorders grouped by body systems. Part three is devoted to acupuncture in large animals. It begins with three different equine atlases, followed by equine acupuncture treatment according to body system, and concludes with acupuncture in cattle and a porcine acupuncture atlas. Part four covers failures in veterinary acupuncture and veterinary manipulative therapies.
---
MicroCurrent for Horses
(and other vital therapies you should know)

MicroCurrent for Horses (and other vital therapies you should know) is reference book for professionals and horse owners interested in microcurrent therapy. It explores the past and present methods of this amazing therapy as well as many other complimentary therapies. With the addition of the many other therapies you can dramatically improve your results. This book is a real how-to book that reveals what many have paid thousands to learn in courses. The users of this knowledge will be empowered to tackle horse lameness issues with confidence. The reader will learn how to be more proactive in the care of their horses, saving money and down time. Expensive treatments such as shock-wave, joint injections, and surgery may not be the only option. Everyday new users discover how helpful these methods are for tendon, ligaments, hoof problems, body soreness and much more. There are simply too many barns with unsound horses that need not be. Examples of other animals including dogs, cats, and goats benefit from these therapies as well.
---

Veterinary Acupuncture
by Alan M. Klide,
Shiu H. Kung Publisher: University of Pennsylvania Press

Drawing on medical and scientific literature in diverse languages, Veterinary Acupuncture presents a world of information on this traditional form of Chinese medicine.
For veterinarians to examine the theory and practice of acupuncture.
For livestock owners and trainers to acquaint themselves with the evidence they need to understand and appreciate the benefits it may offer their animals.
For scientists to use as a source of information for the study of pain and acupuncture.
---

Equine Acupressure: A Working Manual
by Nancy A. Zidonis

If you have ever wished for health care or medical treatment for you or your animals that is free, sage and simple to use, available night and day, and whereever you are, be assured that it exists, and it is right at your fingertips. It is called Acupressure. "Equine Acupressure, A Working Manual" provides a thorough overview of the origins of acupressure (TCM), explains its effectiveness and describes its benefits.
The meridian system is picturedand described in detail, including each meridian's function, how it relates to the internal organs and other parts of the body, and the indicators for treatment.
This book teaches the reader how to perform acupressure treatments, what to do before, during and after, and when not to perform acupressure. It stresses that attunement to the horese and allowing him to be the guide throughout the treatment is of utmost importance. This book teaches how to observe the horse and what to expect.
---
The Well-Connected Dog: A Guide to Canine Acupressure
by Amy Snow, Nancy Zidonis, Ella Bittel, Carla Stroh

Dr. Michael W. Fox, Author and Veterinarian
This book is a contribution to the necessary turn-around in our thinking about life and reactions toward disease and suffering. It is indeed a welcome and much needed addition to the growing library of useful texts and manuals on companion animal care and health maintenance. Additionally, there is benefit for those who discover the power of the healing touch. It is something that we can all give, and refine and in the process we facilitate our own healing and wholeness as we relax, focus and touch
Iona Marsaa Teeguarden, MA, Author
This book does for canine acupressure what my books do for human acupressure, presenting the traditional theory in an easily digestible way and making it very do-able. Just by reading this book and trying the stretches and the point recipes for common problems, you can help your dog's health.
---

Acu-Cat: A Guide to Feline Acupressure
by Nancy A Zidonis, Amy Snow, Nancy Zidonis

Dr. Jane Bicks, Noted Veterinarian, Author and TV Host
I believe that veterinarians should study this art - to return to the days when healing was about mind, spirit, and body. We need to know how to make our cats more comfortable in our offices and during home visits by applying acupressure. The time has come to integrate traditional medicine with alternative medicine. Once we do that, we will truly be serving our feline members.
Holly Hazard, Executive Director, Doris Day Animal League
"Getting back to basics" takes on a new and important meaning in relation to this insightful and thought provoking work. Awakening to techniques that have worked for thousands of years will provide both the reader and her furry companion with options for care that will add significant quality to their lives.
---

Four Paws Five Directions: A Guide to Chinese Medicine for Cats and Dogs
by Cheryl Schwartz
Publisher: Celestial Arts


For the growing number of animal lovers seeking an alternative to Western medicine, this comprehensive approach to home animal care includes descriptions of acupuncture and Chinese herbal medicine treatments.
Special emphasis placed on clear, uncomplicated approaches to acupressure and diet that readers can do themselves at home. Inlcudes two 16-page color inserts.
---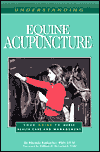 Understanding Equine Acupuncture : Your Guide to Horse Health Care and Management (Horse Health Care Library)
by Rhonda Rathgeber
Publisher: Eclipse Press

Examines the history of an ancient Eastern medical technique and its application to horses. Understanding Equine Acupuncture examines the history of an ancient Eastern medical technique, its principles, and application to horses.
Acupuncture is becoming a widely accepted alternative therapy for both humans and equines, and in horses, it is being used to treat a number of conditions from lameness to infertility.
Many veterinarians incorporate acupuncture into traditional treatment programs.
---
Equine Landmark Anatomy & Acupoint Energetics


Equine Landmark Anatomy & Acupoint Energetics breaks new ground in the filed of Equine Acupressure and Acupuncture. This DVD provides an exceptional tool for both the professional and the student.
This DVD: - Identifies significant equine anatomical landmarks - Discusses & demonstrates the flowof the 12 major meridians, governing & conception vessel - Describes functions & energetics, and shows the locations of all the aupoints in the basic acupoint classifications.
---
Equine Acupressure: A Working Manual


This user-friendly guide to acupressure is filled with easy to follow photographs, charts and illustrations. The acupressure meridian system, acupoints and treatment plans are explained in detail along with complete charts showing the location of the points.
Acupresure is a safe, noninvasive and powerful way to participate in your horse's optimal health. This book inlcudes the basics of equine acupressure, plus 15 specific treatments for common equine physical and training conditions.
---
Canine Acupoint Energetics & Landmark Anatomy


The Canine Acupoint Energetics and Landmark Anatomy DVD breaks new ground in the field of Acupressure and Acupuncture. This DVD provides an exceptional tool for both the veterinary professional and students of acupressure and acupuncture.
Presenter, Turie Norman, DVM, is a practicing holistic veterinarian in Colorado. She studied with Dr. Xie, DVM, who is the only Veterinary Traditional Chinese Medicine Doctro trained in China and teaching acupuncture in the United States. Dr. Norman is a Certified Veterinary Acupuncturist and Herbalist. Nancy Zidonis is co founder of Tallgrass Animal Acupressure Institute, she has developed the Equine and Canine Acupoint Energetics and Landmark Anatomy courses and co-authored books on equine, canine, and feline acupressure and charts.
---
Animal Reiki: Using Energy to Heal the Animals in Your Life


Whether you're a newcomer to the field of energy medicine, an experienced practitioner or an animal lover committed to learning everything you can about your companion's health, Animal Reiki will open your eyes to a new level of healing and well-being. From dogs and cats to horses and birds, this book is everything you need to understand and appreciate the power of Reiki to heal and deepen the bond with the animals in your life.

Reiki has many qualities that make it an ideal complementary therapy for animals. First and foremost, it is gentle, painless, non-invasive and stress-free for animals. Reiki heals at all levels of an animal's being: physical, mental, emotional and spiritual. It is one of only a few therapies that brings no harm to any living thing--plant or animal--to produce its healing properties. It goes to those issues most in need of healing, even those unknown to the practitioner. Reiki is always safe and comfortable for both animal and healer. It can be given at a distance and adapted to any problem that affects animals, so it can be used under any circumstances. There is virtually no problem or circumstance that cannot be treated effectively with Reiki.
---
The Animal Reiki Handbook:
Finding Your Way With Reiki in Your Local Shelter, Sanctuary or Rescue


Filled with practical tips and expert advice, this book will help give you the confidence you need to help the animals who need it most! Animal Reiki Teacher Kathleen Prasad has written the first eight chapters, with additional author contributions from SARA shelter staff members, SARA Reiki practitioners and a veterinarian.
The book includes an introduction to the organization, mission and code of ethics of SARA, the Shelter Animal Reiki Association. Also covered is an introduction to animal Reiki, guidelines for working within shelters, considerations for treating in a variety of environments, and a list of activities to "get started." The last part of the book has been provided by other SARA members and includes animal Reiki cartoon art, practical considerations for Reiki treatments of fearful cats and dogs and a Q and A section. If you are a Reiki practitioner hoping to reach out to a shelter, sanctuary or rescue organization in your area, this book is for you!
---
The Merck Veterinary Manual


This new edition of the veterinary classic has been completely revised and redesigned.
A two-column format and use of color throughout make the text and tables easy to read, and for the very first time, color images have been included to enhance and illustrate the text.
In addition to extensive revisions and updates, this edition includes expanded coverage of exotics, new material on zoonoses, and up-to-date chapters on new and emerging topics in veterinary medicine.
---