AcupunctureProducts.com - Charts
Cat Acupressure / Acupuncture Chart 8.5" X 11" (21.6 cm X 27.9 cm)
For Veterinarians, Veterinary Acupuncturists and Cat Owners
Cat acupuncture point chart showing 44 commonly used acupuncture points. The 44 Point locations are on the back of the chart along with conditions each point treats. Cat owners can massage these points to help keep their pets healthy naturally.
8.5" X 11" Double-Sided Laminated Cat Acupuncture Chart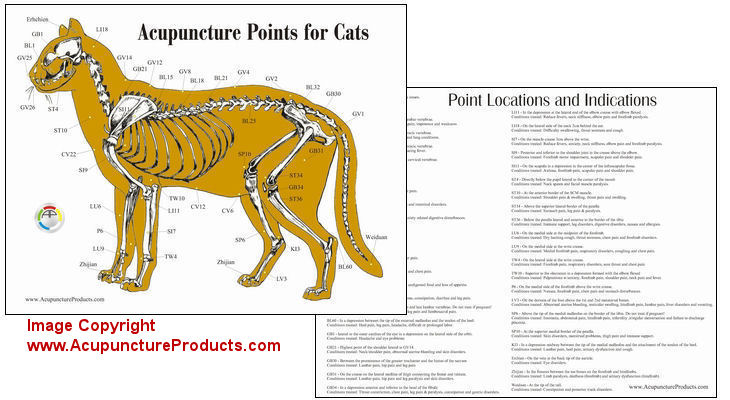 Back of Chart Close-up
Key Features:
• 44 commonly used acupuncture points
• Anatomical locations for the 44 numbered points
• Conditions treated for each of the numbered points
LaminatedDouble-sided Cat Acupressure / Acupuncture Chart 8.5" X 11" (21.6 cm X 27.9 cm)
Please check your shipping address before completing your transaction with Paypal!


Shipped flat, never rolled!
Money back guarantee on all orders.
$9.95

+ Shipping.

Acu-Cat: A Guide to Feline Acupressure
by Nancy A Zidonis, Amy Snow, Nancy Zidonis

Dr. Jane Bicks, Noted Veterinarian, Author and TV Host
I believe that veterinarians should study this art - to return to the days when healing was about mind, spirit, and body. We need to know how to make our cats more comfortable in our offices and during home visits by applying acupressure. The time has come to integrate traditional medicine with alternative medicine. Once we do that, we will truly be serving our feline members.
Holly Hazard, Executive Director, Doris Day Animal League
"Getting back to basics" takes on a new and important meaning in relation to this insightful and thought provoking work. Awakening to techniques that have worked for thousands of years will provide both the reader and her furry companion with options for care that will add significant quality to their lives.
---
The Animal Reiki Handbook:
Finding Your Way With Reiki in Your Local Shelter, Sanctuary or Rescue


Filled with practical tips and expert advice, this book will help give you the confidence you need to help the animals who need it most! Animal Reiki Teacher Kathleen Prasad has written the first eight chapters, with additional author contributions from SARA shelter staff members, SARA Reiki practitioners and a veterinarian.
The book includes an introduction to the organization, mission and code of ethics of SARA, the Shelter Animal Reiki Association. Also covered is an introduction to animal Reiki, guidelines for working within shelters, considerations for treating in a variety of environments, and a list of activities to "get started." The last part of the book has been provided by other SARA members and includes animal Reiki cartoon art, practical considerations for Reiki treatments of fearful cats and dogs and a Q and A section. If you are a Reiki practitioner hoping to reach out to a shelter, sanctuary or rescue organization in your area, this book is for you!
---