Acupuncture and Health Cards
Pulse Diagnosis Acupuncture Card (Wallet Size) 2-1/4" X 3-3/8"
Pulse diagnosis is one of the more important diagnostic tools used in Chinese and Japanese acupuncture and herbal medicine. The pulse can be used to gain a deep understanding of the patient on many levels. "Mastering" pulse diagnosis is difficult without the guidance of a skilled teacher. However, even at basic levels, the pulse provides the practitioner with immediate and specific information that can help clarify contradictory diagnostic information and symptomology.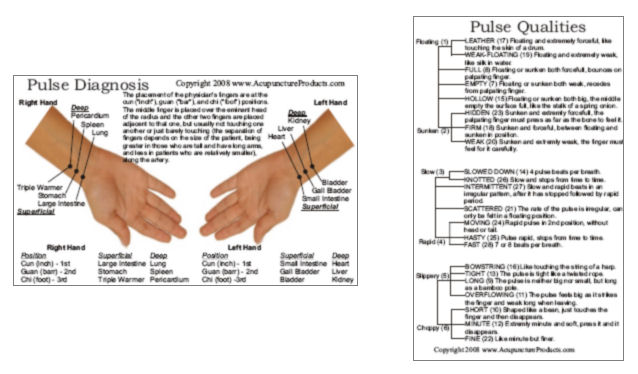 Key Features
• Most commonly used pulse qualities
• Pulse qualities classified into 6 groups
• Finger placement for taking pulse
• Hand images shown as patient would present them
Card measures 2-1/4" X 3-3/8" and fits in your wallet. Laminated so images will not rub off. The card shows the patients hands from the doctors perspective, making learning pulse diagnosis much easier. The card contains the pulse locations on both right and left hand with Chinese name. The back side of the card contains pulse characteristics.
Laminated Double-sided Pulse Diagnosis Card. The card measure 2-1/4" X 3-3/8" and fits in your wallet.
♦ Please check your shipping address before completing your transaction!



Money back guarantee on all orders.
Pulse Diagnosis Wallet Card
Laminated -
$3.25

+ Shipping