Acupuncture Charts and Books
Atlas of Acupuncture Points with Formulas - 55 Pages Instant Download
Save on your Computer and Print the Pages You Need, Great Study Guide!
$9.95 Instant Download

Atlas of the 12 main meridians along with the extraordinary meridians of the CV & GV.
22 Full Color acupuncture pictures of the acupuncture meridians mapped out on models. Clear acupuncture point descriptions with indications. Over 100 acupuncture formulas are included, 55 pages in PDF format. Includes treatment of musculoskeletal conditions with laser acupuncture with 50 formulas! Korean hand acupuncture images. Five element theory with Sheng/Ko cycle. Horary cycle with times and points. 40 Extraordinary non-meridian point locations with indications. Muscle meridian associations.
Sample Pages
Atlas of Acupuncture Points with Formulas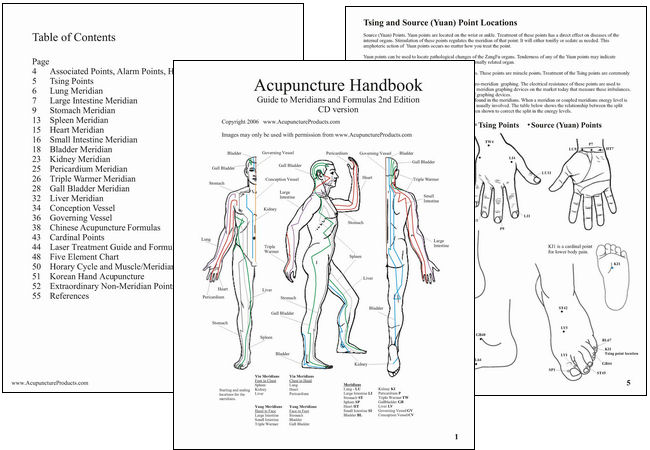 Acupuncture Point Locations Now with Idications for each point!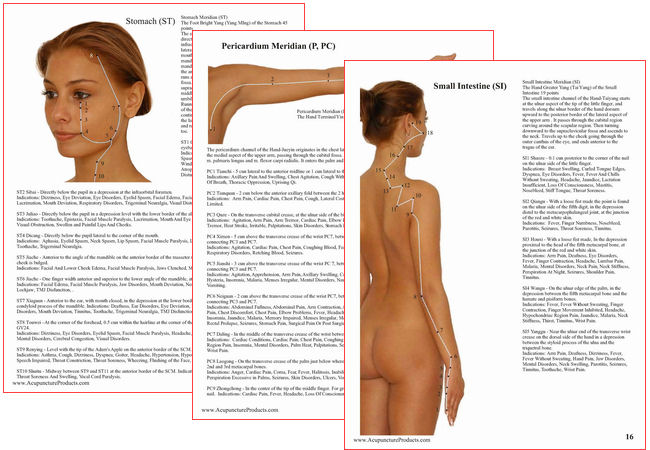 Korean Hand Acupuncture, Hara Areas, Extraordinary, Alarm, & Associated Points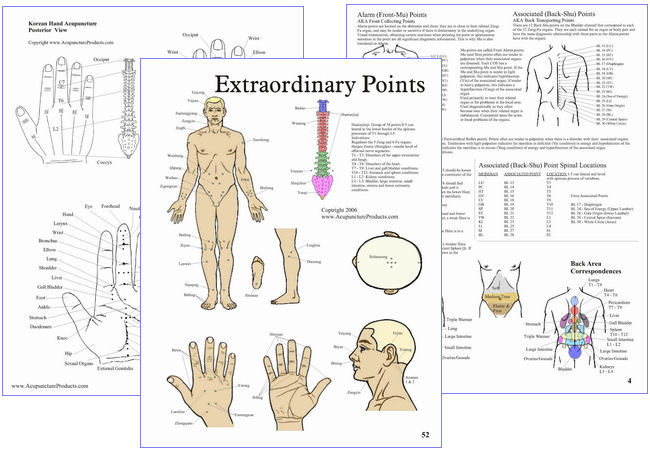 Over 100 Chinese Acupuncture Formulas, Laser Teatment Information with over 50 formulas, Five Element Theory with Horary Cycle and Muscle Meridian Associations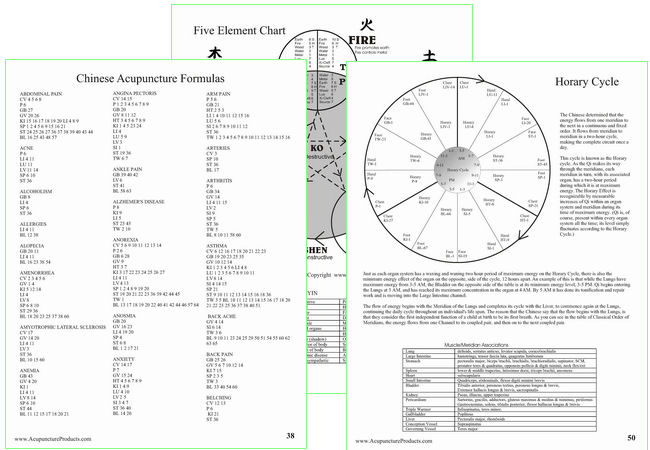 Key Features:
• 22 Full Color acupuncture pictures of the acupuncture meridians mapped out on models
• Clear acupuncture point descriptions with indications
• Over 100 Chinese acupuncture treatment formulas
• Treatment of musculoskeletal conditions with laser acupuncture with 50 formulas
• Hara diagnosis areas
• Tsing and Source point locations
• Spinal segments associated with meridians
• Korean hand acupuncture images
• 40 Extraordinary non-meridian point locations with indications
• Five element theory with Sheng/Ko cycle
• Horary Cycle with times and points
• Muscle meridian associations
Atlas of Acupuncture Points with Formulas - 55 Pages PDF Format Instant Download
$9.95 Instant Download