Acupuncture and TCM Books
630 Questions & Answers About Chinese Herbal Medicine:
A Workbook & Study Guide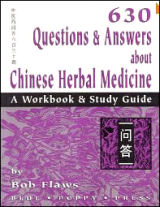 630 Questions & Answers About Chinese Herbal Medicine:
A Workbook & Study Guide

Check New and Used Prices
This book is a study guide and exam preparation workbook for Chinese herbal medicine. Its 630 questions cover all aspects of the theory and practice of Chinese herbal medicine including materia medica; medicinal combinations; processing of medicinals; formulas and prescriptions; additions and subtractions; case history analysis. This book is extremely useful for preparing for various school, state, or national Chines herbal exams. However, no matter what your degree of expertise, answering the questions in this book can help you reach a higher level of Chinese herbal practice.
About the Author
Bob Flaws, Dipl. Ac. & C.H., was born in 1946 and grew up in Rutherford, NJ. From the age of 14, Bob had three main areas of interest: writing/reading, philosophy, and biology. He attended Newark Academy and then Middlebury College where he earned a B.A. degree. His major in college was American Literature. In 1969, Bob went to India and Nepal to become a Buddhist yogi. He became the student of a family of Nyingmapa lamas headed by H.H. Dudjom Rinpoche, the Ven. Jetsun Pema Rinpoche, and Sonam Kazi. When the Kazi family moved to New York City, Bob followed them at their request to continue his Buddhist training. Bob continued his Buddhist studies for 18 years, receiving oral transmissions, teachings, and empowerment from a number of Nyingmapa lamas, the last of which was Namkhai Norbu Rinpoche. He held various positions within the Nyingma hierarchy, including chopon (master of ceremonies), omdze (cantor), and lopon (teacher), and spent considerable time in solitary retreat. During this time, Bob also studied Tibetan medicine with such Lama doctors as Ven. Trogawa Rinpoche and Chagdud Tulku.
Because Bob could not see a clear path in the mid-1970s to becoming a Tibetan doctor, he decided to study its closest kin or cousin, Chinese medicine. President Nixon had reopened the United States' relationship with the People's Republic of China and James Reston had created a groundswell of interest in acupuncture with his articles about that subject in The New York Times. At that time, Bob knew of only one American acupuncture school, the New England School of Acupuncture. Before enrolling in their program, however, he decided to first study massage therapy in preparation for studying acupuncture. Therefore, in 1977, Bob moved to Boulder, CO to attend the Boulder School of Massage Therapy, which he graduated from in 1978.
At the same time, he began studying with another New York Nyingmapa who had moved to Colorado, Jerry Gardner. Jerry was a lifelong student and teacher of martial arts. In particular, Bob sought out Jerry's advice about ways of training the qi in his hands. So Bob started practicing various types of qi gong culled from a number of different styles of martial arts taught by Sifu Gardner. These included wing chun, tai ji quan, ba gua, and tai ji chi (tai ji ruler). Because of his previous many years of meditation and yogi practice, Bob quickly made progress in qi gong, and, after graduating from BSMT, opened the first qi gong school in the United States to operate outside of a martial arts context. This was the Blue Poppy Chi Kung Association. It was dedicated to teaching qi gong for health and healing purposes. In 1978, Bob invited Lucjan Shila, to teach for Blue Poppy. Lucjan was yet another New York Nyingmapa who had also studied and taught tai ji quan, xing yi, ba gua, and xi zang mi zong lama pai (Tibetan secret sect lama system, also known as Tibetan White Crane gong fu). Bob continued his qi gong studies with Lucjan, taking various qi gong exercises from the martial arts Lucjan taught.
In 1978, Bob became engaged to Honora Lee Wolfe, the founder and director of the Boulder School of Massage Therapy. This engagement effectively put an end to Bob's plans of attending the New England School of Acupuncture in Boston, MA. Therefore, he began studying acupuncture with Eric Tao (Xi-yu) in Denver, CO. Dr. Tao had learned the Tao family style of acupuncture from his uncle in Beijing when he was a teenager. After 1949, Dr. Tao and his family were forced to move to Taiwan due to their Guo Min Tang affiliation. There, Dr. Tao decided to make acupuncture his profession, and during the 1950, 60s, and early 70s became associated with Wu Wei-ping and his circle. Bob studied with Dr. Tao for a year and became certified by Dr. Tao in acupuncture-moxibustion. At the same time, Bob studied acupuncture and Chinese medicine whenever and wherever possible. This largely meant correspondence courses put out by the Occident
630 Questions & Answers About Chinese Herbal Medicine:
A Workbook & Study Guide

Check New and Used Prices