Acupuncture and TCM Books
Q-Puncture Acupuncture made simple (CD-ROM)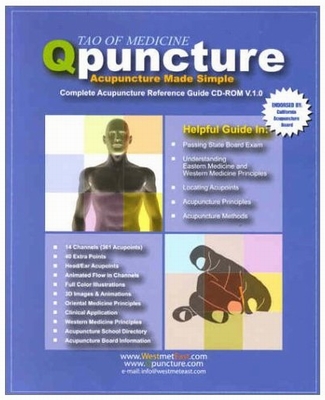 Q-Puncture Acupuncture made simple (CD-ROM)

Check New and Used Prices
by Hansen, M.D. Lee (Editor), Yeung Kwon
Qpuncture is a revolutionary CD-Rom that makes learning acupuncture very easy. This CD-Rom contains complete illustrations, clear explanations of oriental medicine principles, western medicine principles, and all the necessary information for begining self-study and achieving success on licensing exams.
Qpuncture is perfect for students, professors to use during lectures for reference purposes, and people who simply want to learn more about acupuncture but don\'t have much time.
MDs, chiropractors, massage therapists, herbalists, acupressurists, and other oriental medicine practitioners can utilize our software for self-study guide.
Who is it for?
Qpuncture: Acupuncture Made Simple is a CD-Rom with a reference guide designed for students, teachers, doctors, chiropractors, acupuncturists, and anyone who is interested in learning about acupuncture. Depending on how many hours you invest, you'll be well on your way to take the exam and become licensed.
What does it do?
Our CD-Rom and reference guide tremendously assist those who are preparing to take the NCCAOM Exam. Qpuncture covers a large portion of the material on the exam. Be assured: You will be prepared. Unlike other previous acupuncture software and textbooks, Qpuncture makes learning simple by providing clear explanations, vivid illustrations, and 3-D rotating images. For those who are already licensed, it is still a great reference tool for clinical applications and a method to combine practices of oriental medicine with western medicine. Whether for professional or personal use, you can learn acupuncture easily and accurately with Qpuncture .
Contents
Chapter1: Introduction
An Introduction and a brief history of acupuncture with definitions of common terminologies begin this exciting field of the art of acupuncture.
Chapter2: Acupuncture
Explanation and discussion of acupoints of 14 channels, 40 extra points, ear/head acupuncture, and flow channels of 12 channels and 8 extraordinary channels are included. Anatomical landmarks of acupoints and channel pathways and mechanisms are revealed in full-color illustrations animated in 3D technology. In addition, detailed descriptions of various body parts associated with particular acupoints are linked with instructions.
Chapter3: Oriental Medicine
The philosophy and concepts of oriental medicine are introduced and explained. Demonstration and therapeutic effects are included. This chapter provides clinical explanations of commonly diagnosed illnesses. You can easily find any disease by selecting each department. This section is a meticulously abstracted summary of clinical pearls.
Chapter4: Western Medicine
This chapter is a review of basic western medicine. It contains a list of more than 400 various disease symptoms and their diagnosis and treatment under different categories of western medicine, including internal medicine, general surgery, pediatrics, gynecology, and other fields.
Chapter5: Information
This chapter includes detailed description of the NCCA and CA board information, as well as acupuncture school directory of United States with complete profiles.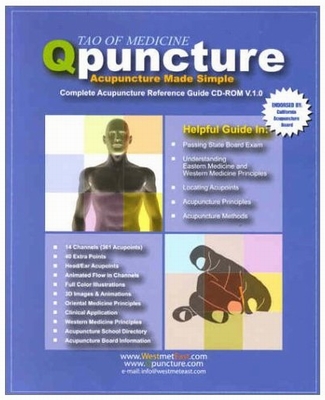 Q-Puncture Acupuncture made simple (CD-ROM)

Check New and Used Prices