Acupuncture and TCM Books
Handbook of Traditional Chinese Dermatology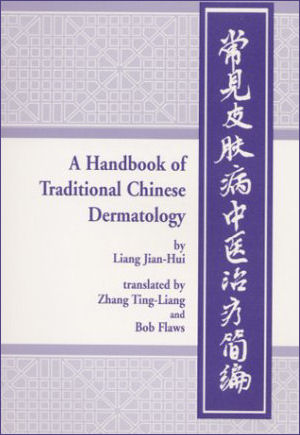 Handbook of Traditional Chinese Dermatology

Check New and Used Prices
This is the first traditional Chinese dermatology clinical manual to be published in English. It systematically covers the main concepts of Chinese pathophysiology in dermatology. Its treatment section covers differential diagnosis, therapeutic principles, and internal and external treatment plans for 90 dermatological conditions ranging from warts, scars and acne to psoriasis, eczema, and vitiligo.
Zhang Ting-liang, Dipl. Ac., was born in Shanghai. He graduated from college with a B.A. degree in English. Because of his lifetime interest in Chinese medicine, he got a job as translator at the Shanghai College of Chinese Medicine where he met Bob Flaws in 1982. Zhang was Bob's translator in 1982 and 83 and Honora's translator in 198 and 8 . In 1985, Bob asked Zhang to translate a book on Chinese medical gynecology. This was subsequently published by Blue Poppy Press as A Handbook of Traditional Chinese Gynecology. In 1986, Bob and Honora sponsored Zhang to come to the United States.
Zhang came to the United States as a B.A. student in psychology at the Naropa Institute in Boulder, CO. At the same time, Zhang taught and studied at Bob and Honora's small acupuncture school, the Dechen Yonten Dzo Institute of Chinese Medicine. Zhang graduated from both schools and went on to become a registered acupuncturist in the State of Colorado. He also became a social worker for Asian immigrants in Denver. Zhang's other publishing credits include translating A Handbook of Traditional Chinese Dermatology; Shaolin Secret Formulas; and The Treatment of Cancer by Integrated Chinese-Western Medicine. Zhang currently conducts a general private practice in acupuncture and Chinese medicine in Boulder, CO where he lives with his wife, Yu Mei, and son, Jing.
Handbook of Traditional Chinese Dermatology

Check New and Used Prices