Acupuncture and TCM Books
Four Paws, Five Directions:
A Guide to Chinese Medicine for Cats and Dogs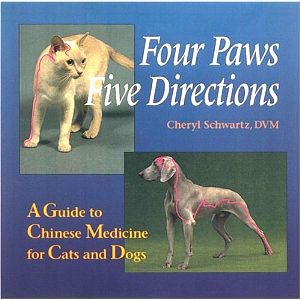 Four Paws, Five Directions: A Guide to Chinese Medicine for Cats and Dogs

Check New and Used Prices
Welcome to the world of traditional Chinese medicine—for cats and dogs! For the growing number of animal lovers seeking an alternative to Western medicine, this thoughtful and comprehensive approach to home animal care is a virtual godsend.
FOUR PAWS, FIVE DIRECTIONS includes descriptions of acupuncture and Chinese herbal medicine treatments, with special emphasis placed on clear, uncomplicated approaches to acupressure and diet that you can do at home. And just wait till you see the photographs! These vivid color portraits accurately chart the meridians and acupressure points of thirty-two gorgeous, furry models. Pet owners and students of veterinary medicine alike will appreciate this unique and upbeat guide to interacting more holistically with our beloved feline and canine friends.
An authority in her field, Cheryl Schwartz, D.V.M., is the director of the EastWest Clinic in Oakland, California. One of the first holistic centers of its kinds, the clinic was started in 1986 in response to a growing demand for alternative veterinary care.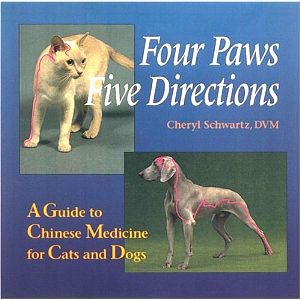 Four Paws, Five Directions: A Guide to Chinese Medicine for Cats and Dogs

Check New and Used Prices
Cat Acupressure Acupuncture Chart 8.5" X 11"
Cat acupuncture point chart showing 44 commonly used acupuncture points. The 44 Point locations are on the back of the chart along with conditions each point treats. 8.5" X 11" double-sided laminated chart.