Acupuncture and TCM Books
Golden Needle Wang Le-ting: A 20th Century Master's Approach to Acupuncture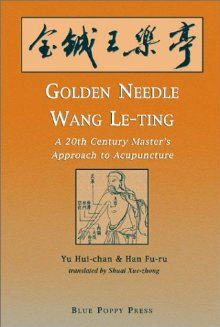 Golden Needle Wang Le-ting: A 20th Century Master's Approach to Acupuncture

Check New and Used Prices
Wang Le-ting was one of the architects of modern Chinese acupuncture. Wang created many new acupuncture treatment protocols useful in the treatment of chronic, difficult to treat conditions including paralysis and atrophy due to organic disease (MS, lupus, ALS, etc.), cerebrovascular accident, and traumatic injury to the spinal cord. This book is an account of his special acupuncture theories and contains his most effective, innovative treatment protocols, representative case histories, and Wang's analysis of point selection. It is also a mine of clinically useful, step-by-step acupuncture protocols.
Preface to Golden Needle Wang Le-ting
Professor Wang Le-ting, past Director of the Acupuncture Department of the Beijing Chinese Medicine Hospital, was born in 1894 and was 89 years old when the Chinese edition from which this book has been created was first compiled in 1983. From his childhood, he studied with the famous acupuncture specialist, Chen Xu. In 1929, he formally began the practice of medicine on his own at 35 years of age. Therefore, Wang Le-ting was in clinical practice for 50 years. Because he used true golden needles and because he cured so many people, he was popularly called Golden Needle Wang Le-ting.
I first came across the Chinese source text for this book in 1984. A friend of mine, Michael Helme, whom I met while studying acupuncture in Shanghai, had a copy in his possession. When Michael told a Chinese doctor he was interested in studying acupuncture and moxibustion, this was the book he was advised to buy. In 1986, Michael translated sections of this book and I edited these for inclusion in Timing and the Times: Chronicity in the American Practice of Oriental Medicine. At that time, I felt that Wang Le-ting was an important link in the development of modern Chinese acupuncture. Unfortunately, I lost contact with Michael Helme before he and I had a chance to translate the entire book. Therefore, when Prof. Shuai Xue-zhong of the Hunan College of Traditional Chinese Medicine asked me if there were any books I would like him to translate, it did not take me long to remember this one, a copy of which he was able to find in his college's library.
Golden Needle Wang Le-ting: A 20th Century Master's Approach to Acupuncture

Check New and Used Prices