Acupuncture and TCM Books
Facial Acupuncture & Reflexology Books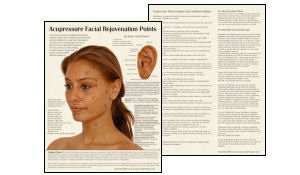 Acupressure Facial Rejuvenation Points Chart
Our Acupressure Facial Rejuvenation Points Chart helps to promote healthy skin by improving overall health and well being to the whole body. Treating the acupoints of the face promotes the flow of Qi and increases blood flow throughout the skin on the face while helping remove toxins. Acupressure helps you look healthier from the inside out.
The chart contains 16 acupressure points on the face with point locations & conditions helped, 10 ear Master control points with conditions helped & frequencies used for microcurrent therapy and essential oils used in facial massage listed by skin condition (normal, oily, dry and combination skin).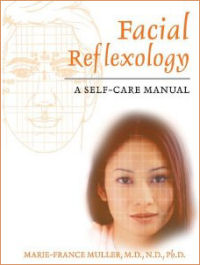 Facial Reflexology: A Self-Care Manual
by Marie-France Muller M.D. N.D. Ph.D.
It is possible to rub certain zones of your face to relieve a backache or the beginnings of a migraine. It is likewise possible to stop a common cold from developing in less than a minute. Facial reflexology, one of the simplest and most effective healthcare methods, provides rapid relief for many of these common ailments. Developed in 1980 by Vietnamese doctors in Ho Chi Minh City as a less invasive alternative to facial acupuncture, facial reflexology uses healing principles based on the I Ching and Buddhist teachings. The therapy is simple enough that it can be self-administered by a beginner with immediate results and is also a valuable tool for healthcare professionals.

In Facial Reflexology Marie-France Muller introduces this healing practice to the English-speaking world for the first time. She describes the mechanics of facial reflexology--facial diagnosis, facial pressure points, reflex zones, massage and pressure techniques--and provides healing routines both for treating acute ailments and maintaining overall good health. Included is an extensive dictionary of more than 200 common ailments, accompanied by therapeutic instructions and easy-to-follow diagrams of the points to be stimulated, for complaints such as indigestion, asthma, pinched nerves, fatigue, insomnia, menstrual cramps, migraines, high blood pressure, sprains, pulled muscles, and even the common cold.
---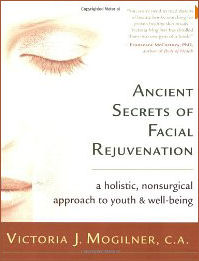 Ancient Secrets of Facial Rejuvenation:
A Holistic, Nonsurgical Approach to Youth and Well-Being
This natural skin care program is designed around the principle that the face reveals what the body feels. It incorporates whole body healing to prevent and counteract signs of aging without surgery or harsh chemicals — and at no cost. Derived from massage, aromatherapy, acupressure, and traditional Chinese healing arts, these gentle techniques produce a more youthful face and lead to a healthier lifestyle. The book describes the layers of the skin and its function as one of the body's major organs, and shows how to use touch and massage on the facial pressure points to improve the appearance of the skin and the health of the other organs. The simple techniques take just minutes to do and are easy to include in regular morning routines like putting on makeup or shaving. Breathing exercises, routines for specific problems, and affirmations to rid the body and mind of toxins round out the book.
---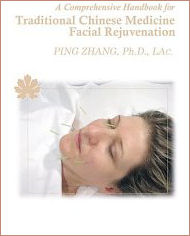 A Comprehensive Handbook for Traditional Chinese Medicine Facial Rejuvenation
This comprehensive handbook for Traditional Chinese Medicine(TCM) facial rejuvenation covers the complete guide of acupuncture, Chinese herbal medicine, acupressure, Chinese food therapy, Qi Gong exercises as well as other modalities including Gua Sha, Moxa, and Jade Stick massage techniques for facial rejuvenation concerns such as wrinkles and sagging of the face, facial discoloration and age spots, dark eye circles and eye bags.
Dr. Ping Zhang, Ph.D. in Oriental Medicine, New York State licensed acupuncturist and a national certified herbalist, has more than 10 years clinical experience in applying anti-aging Traditional Chinese Medicine (TCM) in her practice .She was the first to introduce and design a college graduate – level course in TCM Facial Rejuvenation in the United Status. She is the author of the book Anti-Aging Therapy, a producer and creator of a series of educational CDs on anti-aging therapy and anti-aging supplement lines for healthcare professionals. She represents the fourth generation of her family to practice Traditional Chinese Medicine and is frequently interviewed as an expert in TCM in major news media channels and magazines. Dr. Ping Zhang is currently hosting her web radio program titled Traditional Chinese Medicine with Dr.Ping in Progressive Radio Network, and continually teaches and provides training internationally for healthcare professionals while maintaining a high volume private practice in Port Washington, NY.
---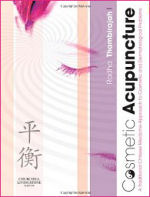 Cosmetic Acupuncture:
A TCM approach to cosmetic and dermatological problems
A practical handbook for the diagnosis and treatment of cosmetic and skin problems according to Traditional Chinese Medicine.
This book presents the TCM theory that provides the rationale behind the choice of treatment and offers step-by-step instruction on how to treat cosmetic and skin problems through the use of acupuncture.
The needling techniques for face lifting, cellulites and more are described clearly and the text is supported by illustrations showing the techniques.
---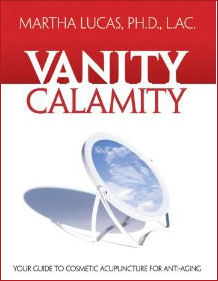 Vanity Calamity: Your Guide to Cosmetic Acupuncture for Anti-aging
Vanity Calamity tells the history of vanity and what women have been willing to do to look younger or more beautiful. Now there's a healthy, safe option - Cosmetic Acupuncture. This book shares how to look young naturally, including foods that nourish the skin.
Cosmetic Acupuncture is a holistic alternative to plastic surgery, injections, and laser/chemical peels. It is one procedure for your face rather than 3, 4, or 5 different (and expensive) procedures. Your face will never look stretched, burned, puffy, or "banded". This series of treatments increases blood circulation to the face promoting collagen production for increased muscle tone and elasticity (this is what keeps wrinkles from forming!) It's prevention at its best!
---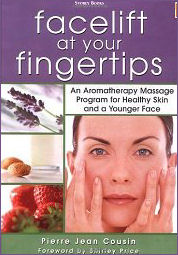 Facelift at Your Fingertips:
An Aromatherapy Massage Program for Healthy Skin and a Younger Face
The Power to Reverse the Effects of Aging is at your Fingertips!
For thousands of years, the healing practices of acupressure and aromatherapy have helped promote healthy, vibrant skin. Now, you too can benefit from their combined effects--Pierre Jean Cousin shows you how. Nourish your skin and add glow to your complexion at little cost with this complete, holistic approach to skin care.
Requiring just a few minutes a day, this easy-to-follow massage sequence combines the benefits of acupressure with aromatherapy to help prevent the onset of aging. Learn how to protect, nourish, hydrate, detoxify, and tone your particular skin type, and in time, even reduce wrinkles. Give yourself a home spa treatment with homemade recipes for facial masks, tonics, and creams using essential oils, clay, nuts, fruit, and honey.
---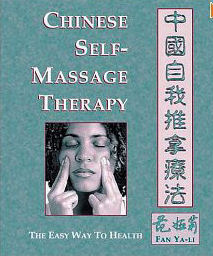 Chinese Self-Massage Therapy: The Easy Way to Health
Chinese self-massage has many benefits and uses, ranging from maintaining health to treating acne, losing or gaining weight, and preventing wrinkles. This comprehensive overview of the theories and techniques of Chinese self-massage is for both professional practitioners of Chinese medicine and people who are interested in caring for their health. It includes self-massage procedures for treatment and prevention of many common complaints, such as colds and the flu, insomnia, high blood pressure, constipation, diabetes, menstrual pain, tennis elbow, and fibrocystic breast, along with accompanying pictures showing how and where the technique should be done.
This book also includes sections on self-massage for sexual dysfunction, beautification, weight loss, maintenance of teeth, prevention of balding, and promotion of better breast health.