Acupuncture and TCM Books
Ear Acupuncture:
A Precise Pocket Atlas Based on the Works of Nogier Bahr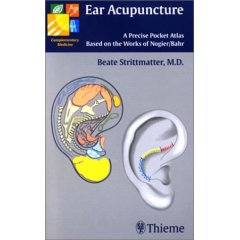 Ear Acupuncture: A Precise Pocket Atlas Based on the Works of Nogier/Bahr

Check New and Used Prices
Description
A novelty to the international market both in concept and realization, this pocket atlas allows the reader to both effectively learn and quickly reference ear acupuncture points. Clear, simple images accompany concise and "to-the-point" texts creating an educational tool for the localization of ear acupuncture points.
The resourcefulness of the book is increased by the inclusion of the projection of the body meridians onto the auricle according to Bahr. Besides, "prescriptions" of point combinations according to some indications are included.
The reader will profit from the extensive international teaching experience of Beate Strittmatter. Through her former teacher, Frank Bahr, who cooperated directly with Dr.Paul Nogier, she stands in the direct tradition of the founder of Western auriculotherapy

Contents
1 Introduction
2 Projection of the Locomotor System
3 Projection of the Internal Organs
4 Projection of the Head
5 Projection of the Nervous System
6 Functional Points
7 Auxiliary Lines of Ear Acupuncture
8 Meridians on the Ear
9 Indications
Note: If steel needles are used instead of gold and silver needles, always needle the Gold Point because this is the point that needs to be stimulated. For example, in case of the Diazepam Analogue Point, the Gold Point would be on the left ear in a right-handen person, but on the right ear in a left-handed person.
Page Views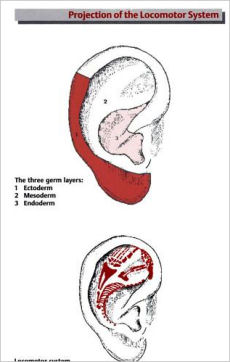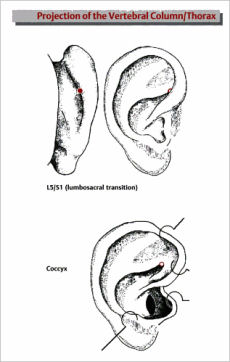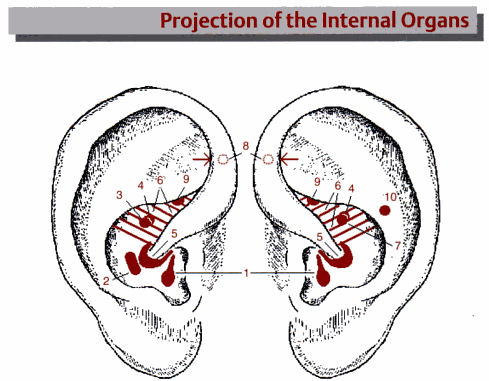 Ear Acupuncture: A Precise Pocket Atlas Based on the Works of Nogier/Bahr

Check New and Used Prices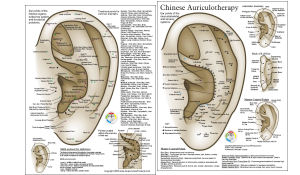 Chinese System of Ear Acupuncture
Double sided 8.5" X 11" laminated chart contains the Chinese system of auricular acupuncture point locations. It is a quick reference for treating patients. All points are in English.