Acupuncture and Health Cards
Chiropractic Patient Education Wallet Card 2-1/4" X 3-3/8"
How many times have you tried to describe a degenerated disc or normal curves of the spine to someone while standing in line at the grocery store or bank. It can be frustrating when you can't find the right words. All you need to do now is show them the vertebral images on this patient education card. A great educational tool to help you illustrate some common conditions of the spine.
The Chiropractic Wallet Patient Education Cards are the same size as a credit card 3-3/8" X 2-1/8". Perfect fit for your wallet. Laminated and will last for years and the images will not rub away. Purchase includes 2 double-sided wallet cards.
Side 1 of the card shows a superior view of a lumbar vertebrae with a bulging disc pressing on a spinal nerve root and the resulting disc bulge in the vertebral canal. Side one also shows 3 lateral views of a normal disc and later stages of disc degeneration with decrease in diameter of the intervertebral canal.
Side 2 has a lateral view of the spinal column showing the spinal curves. Lumbar vertebrae showing the intervertebral disc, facet joint and anterior longitudinal ligamnet. Pain referral on the anterior and posterior leg from L2 - 5 and S1 - 5.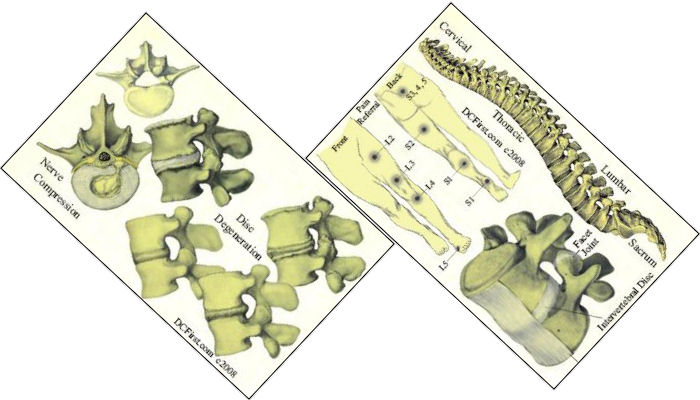 Laminated Double-sided Chiropractic Patient Education Wallet Card. The card measure 2-1/4" X 3-3/8" and fits in your wallet.
♦ Please check your shipping address before completing your transaction!



Money back guarantee on all orders.
Chiropractic Patient Education Cards (2)
Laminated -
$4.95

+ Shipping