AcupunctureProducts.com - Chiropractic Books
Chiropractic Books - Pediatric
Chiropractic Pediatrics: A Clinical Handbook by Neil J. Davies 1st edition (October 15, 2000) ISBN: 0443062536
Children's Chiropractic Healthcare Clinic, Melbourne, Victoria, Australia. Relates all aspects of pediatrics to clinical chiropractic management. Provides coverage of common syndromes which may present to the chiropractor and outlines related history-taking, physical assessment, diagnosis, and management for each syndrome. For students and practitioners.
Pediatric Chiropractic by Claudia A. Anrig (Editor), Gregory Plaugher (Editor) 1st edition (May 15, 1998) ISBN: 0683001361
Illustrated with many photos and illustrations demonstrating proper technique, the chapters address such issues as: non- accidental injury and child maltreatment, vaccination issues, children in motor vehicle collisions, the prenatal and perinatal period, exercise during pregnancy, physical assessment, diagnostic imaging, the spinal examination and specific spinal and pelvic adjustments, craniosacral therapy, pediatric nutrition, spinal subluxation, clinical neurology, orthopedics, scoliosis, the febrile child, the challenged child, adolescent care, and adolescents with acute spinal injuries.
Nelson Essentials of Pediatrics (Nelson Essentials of Pediatrics) by Richard E., MD Behrman, Robert M., MD Kliegman, Richard E. Behrman (Editor) 4th edition (January 15, 2002) ISBN: 0721694063
The 4th Edition of this popular, easy-to-use resource features a thorough review of all the common and uncommon disorders in children. It presents the latest findings in genetics, infectious disease, and hematologic disorders. Organized by organ system for easy use, this text places an emphasis on the pathophysiologic aspects for a systematic, clinical approach to children's problems.
Current Diagnosis and Treatment in Pediatrics
Current Diagnosis & Treatment in Pediatrics 18e offers concise, clinically-oriented coverage of the ambulatory and hospital care of children, from birth through infancy and adolescence. Utilizing the popular Current Series format, this handy guide answers all the questions that come up in daily practice and provides the details necessary to make a sound diagnosis and treatment plan.
Fundamentals of Pediatric Radiology (Paperback)
This highly readable primer is designed to provide a quick overview of the fundamental information in pediatric imaging, techniques, and interpretation. Brief and to the point, it features short chapters and hundreds of illustrations for fast comprehension and retention of data. It emphasizes commonly encountered imaging scenarios and pediatric diseases, and practical differential diagnoses rather than long, comprehensive differential lists. Intended for quick access, this new manual condenses the "must-know" information in pediatric radiology into one convenient volume.
Imaging of the Cervical Spine in Children by Leonard E. Swischuk Publisher: Springer; 1 edition (October 28, 2004) ISBN: 0387219137
Dr. Leonard Swischuk, who is recognized for authoring several superb and widely read pediatric radiology textbooks, has produced yet another outstanding work on the important subject of imaging the cervical spine in children. A distinguished pediatric radiologist, he draws upon his extensive experience in the field and his gift for writing clear and readable text to provide practitioners with an insightful approach to pediatric cervical spine injuries. Those who work in trauma imaging will appreciate the wealth of practical guidelines contained in this thorough yet concise book. Dr. Swischuk's text is organized into six chapters. The first two discuss developmental anatomy and normal variants. Chapters three and four concentrate on congenital anomalies and on abnormalities of the dens. The final two chapters consider trauma and miscellaneous abnormalities of the cervical spine. The book has several notable strengths that are appealing to radiology residents, such as its succinct and well-organized overview of the topic. To help residents identify cases that they are likely to encounter during board exams and in practice, Dr. Swischuk selected excellent plain film examples from his personal collection that illustrate the conditions he discusses and reflect his emphasis on cervical radiography. The illustrated cases also include CT and MR images that clarify and qualify the plain film findings. Helpful reference lists complete each chapter and guide residents to resources for further reading. In addition, Dr. Swischuk's direct writing style makes the complex content highly accessible, providing imaging residents with an invaluable introduction to pediatric cervical spine radiology.
Imaging of the Pediatric Head, Neck, and Spine by Mauricio, MD Castillo, Suresh K., MD Mukherji Publisher: Lippincott Williams & Wilkins; 1st edition (January 15, 1996) ISBN: 0397515774
A text that covers all aspects of brain, neck, and spine imaging that pediatric neuroradiologists, pediatric radiologists, and general radiologists may encounter. Therefore, it deals substantially with imaging of the face, orbits, temporal bones, paranasal sinuses, airway, and neck. It includes discussions on the epidemiologic and clinical features as well as the imaging features of each entity. The drawn illustrations--simple line diagrams--portray common and unusual manifestations of the entities addressed. Each chapter begins with a brief discussion on embryology as it applies to the pathology thereafter considered.
---
Obstetrics, Gynecology & Pediatrics in Chinese Medicine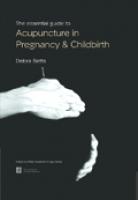 The Essential Guide to Acupuncture in Pregnancy & Childbirth
by Debra Betts & Peter Deadman
In this beautifully-designed clinical textbook, acupuncturist Debra Betts draws on more than 15 years of experience specializing in the use of acupuncture during pregnancy and childbirth. Acupuncture is an ideal form of treatment in that it offers women drug-free relief from a multitude of problems that can arise during this time. Even for conditions like morning sickness, sciatica and symphysis pubis pain, which are often regarded as part of a normal pregnancy, acupuncture can not only improve a womans quality of life, but also prevent them from becoming serious enough to necessitate medical treatment. Pre-birth acupuncture can enhance an efficient labor, and the teaching of acupressure to a womans partner or caregiver can make a great difference in the levels of pain experienced during labor. During labor itself, acupuncture can play a role in actively reducing the level of medical interventions such as inductions, forceps deliveries, and caesarean sections. Acupuncture can provide effective treatment for disorders such as pregnancy-induced hypertension and posterior presentation, and help induce labor, allowing women to achieve natural childbirth.
---
Pediatric Bedwetting with Acupuncture and Chinese Medicine
by Robert Helmer
This book is an excellent resource for Chinese Medicine practitioners interested in including pediatrics in their practice. It is built around numerous Chinese studies on the treatment of enuresis, enabling the reader to view and treat the problem from various perspectives. How to put all this knowledge into practice is demonstrated in quite a few well-structured case histories. An introductory section on the Western view on pathology and treatment of bedwetting offers the most up to date information in an easily readable format. This book takes integration of Western and Chinese medical approaches one step further.
Through the use of some of the recommended treatments offered in this compassionate and thoughtful book the practitioner will discover just how rapid and successful TCM can be in treating this difficult (for parents as well as the child) condition.
---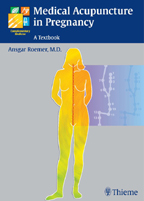 Medical Acupuncture in Pregnancy
More and more health care professionals in obstetrics and gynecology are turning to complementary medicine to enhance their patients' comfort and wellness.
With an emphasis on medical acupuncture, this new book offers busy practitioners an accessible guide to the myriad ways in which these time-tested methods can both enhance and ease a pregnant woman's experience - before, during, and after delivery. Medical Acupuncture in Pregnancy begins with a concise, yet thorough review of basic TCM principles and proceeds to cover treatments for hyperemesis, preterm labor, preeclampsia, dysfunctional labor, postpartum depression, dysmenorrhoe, migraine, infections and more!
Whether as an introduction to the topic or as a handy clinical reference, this text is essential for obstetricians, gynecologists, midwives, acupuncturists, and nurses who want to optimize patient care options with Chinese medicine.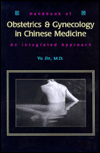 Handbook of Obstetrics and Gynecology in Chinese Medicine: An Integrated Approach by Jin Yu, Chris Hakim Publisher: Eastland Press (June 1, 2001) ISBN: 0939616289
One of the most exciting developments in modern Chinese medicine is the integration of traditional medical knowledge with modern biomedicine. The center for this important and stimulating work is Shanghai, and one of its best known proponents is Yu Jin, M.D. Drawing on four decades of experience as a clinician, researcher, and teacher of obstetrics and gynecology, Dr. Yu has written a handbook for practitioners which presents an integrated approach to obstetric and gynecologic disorders, the first of its kind in a Western language. Dr. Yu presented the evidence for the use of acupuncture in the treatment of gynecologic, endocrine, and reproductive indications at the 1997 National Institutes of Health Consensus Development Conference on Acupuncture in Washington, D.C
---

Acupuncture & IVF by Lifang Liang " Publisher: Blue Poppy Pr; Illustrate edition (August, 2003) ISBN: 1891845241
Increase your success rate with in vitro fertilization (IVF) by as much as 60% The information in this book can increase your success rate with in vitro fertilization (IVF) and other assisted reproductive technologies (ART) by as much as 60%. Research has shown that acupuncture alone can increase the success rate of IVF by 35%. By also adding Chinese herbal medicine, it is Dr. Lifang Liangs experience that you can almost double that increase. In this book, Dr. Liang describes her extremely successful step-by-step protocols for combining acupuncture and Chinese herbal medicine with IVF. Whether you are a Western MD specializing in infertility, a Chinese medical practitioner, or a couple experiencing difficulties in conceiving, this book is sure to give you new hope and a new approach to dealing with this all too common and difficult condition.
---

Acupuncture in Pregnancy and Childbirthing by Zita West
The author, an experienced midwife and acupunturist, has written a concise, highly illustrated and practical guide for using acupuncture to treat women throughout pregnancy and labor. The text covers physiology related to pregnancy and childbirth with practical advice and instruction on the use of acupuncture in different stages of pregnancy, labor, and postpartum. Information on high-risk pregnancies, abnormal fetal positions, and postpartum depression, as well as case examples, provide excellent material for student and practitioner alike.
---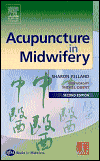 Acupuncture In Midwifery by Sharon Yelland (Foreword) Publisher: Elsevier/Books for Midwives; 2nd edition (February 13, 2005) ISBN: 0750654139
The latest information on the use of acupuncture in midwifery. * Written specifically for midwives by a practising acupuncturist who is also a qualified midwife * Updated and expanded in the light of new developments and increasing understanding of acupuncture * Relates the use of acupuncture specifically to areas surrounding pregnancy and childbirth. Guide to the current use of acupuncture during and for pregnancy and birth, for qualified acupuncturists or midwives interested in further training. Covers the underlying Chinese medical theories, treatment for specific antenatal and postnatal problems, training options, and professional issues.
---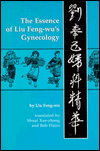 The Essence of Liu Feng-Wu's Gynecology by Feng-Wu Liu (Editor), Shuai Xue-Zhong (Translator), Bob Flaws (Translator) Publisher: Blue Poppy Pr; 1st ed edition (January, 1998) ISBN: 0936185880
Liu Feng-wu was a famous Chinese gynecologist in the middle of this century. This book is a selection of his essays and case histories. His insights into the practice of Chinese gynecology are a must read for anyone interested in this specialty. In this book, you will read Liu's insights into the diagnosis and treatment of endometriosis, infertility, uterine myomas, amenorrhea, polycystic ovarian syndrome, and menopausal syndrome. In addition, there are sections on Liu's theories about the most important medicinals in TCM gynecology and a repertoire of his favorite formulas. This book is bound to expand the understanding of TCM gynecology for all Western practitioners of this specialty. As practitioners ourselves, we were very excited when we came across the Chinese version of this book. Liu's practice of Chinese gynecology is more profound and advanced than many of his contemporaries, and his insights are particularly relevant for Western female patients. Liu is not afraid to criticize his fellow Chinese practitioners who often follow "the party line" even when this varies with real-life clinical practice. Liu's book is a breath of fresh air in its candidness and insight.
---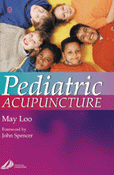 Pediatric Acupuncture by May Loo
A clear explanation of acupuncture and related techniques used in the treatment of children, this practical introduction to the subject explores the important concepts of childhood development and integrates conventional theories with those of TCM. It covers a variety of acupuncture techniques, including non-invasive approaches that are particularly helpful with children. Full treatment protocols are given for 22 common pediatric conditions, with a particular emphasis on treatments that are safe, simple, and readily accepted by children. Issues of diet and immunization are also explored. The author is a practicing pediatrician with many years experience in both working with children and as an acupuncture practitioner. The back matter includes an appendix of acupuncture meridians, a bibliography of general Chinese medicine texts, and an index.
---
Acupuncture in the Treatment of Children (3rd Edition) by Julian Scott, Teresa Barlow Publisher: Eastland Press; 3rd edition (July 12, 1999) ISBN: 0939616300
A superb example of how a clinical textbook should be both written and presented. Pediatrics has long been recognized as an important branch of traditional Chinese medicine, and there are many specialized texts in Chinese devoted to this topic. In its first two editions (1986, 1991), Acupuncture in the Treatment of Children became the leading English-language textbook in this field. In this broadly expanded third edition, the authors explore a number of new topics and revisit many of the old ones with fresh perspective. In addition to the thirty subjects covered in earlier editions are sixteen new chapters which examine a wide variety of topics, from basic childhood patterns, puberty and the stages of development, immunizations, and learning difficulties to hayfever, hyperactivity and attention deficit disorder, autism, Down's syndrome, cerebral palsy and infantile paralysis. There is a new outline of patterns commonly seen in children, and an extensive survey of pediatric symptoms and disorders that are treatable with acupuncture.
---

Chinese Pediatric Massage: A Practitioner's Guide by L.M.T., Kyle Cline, Kyle, LMT Cline Publisher: Healing Arts Press (2000) ISBN: 0892818425
This clearly illustrated guide enables health practitioners to successfully use Chinese pediatric massage in treating children from birth through preadolescence. It shows how a child's energetic framework differs from an adult's and how to adjust treatments accordingly. Kyle Cline, LMT, studied traditional Chinese medicine at colleges and hospitals throughout Asia, including the Shanghai College of Traditional Chinese Medicine, and has served as a faculty member at the Oregon College of Oriental Medicine for five years. The author of Chinese Massage for Infants and Children, he also has a private practice in Portland, Oregon, where he teaches and specializes in bodywork and herbalism.
---

Chinese Pediatric Massage Therapy: A Parent's and Practitioner's Guide to the Treatment and Prevention of Childhood Disease by Fan Ya-Li, Fan Ya-Li Publisher: Blue Poppy Press; 1st ed edition (March 1, 1999) ISBN: 0936185546
A leading practitioner of Chinese medicine provides Western therapists with a comprehensive, illustrated handbook for the noninvasive treatment of childhood conditions. * Provides alternatives to Western medicine that are more tolerable to children and better for their long-term health. * With over 200 drawings and photographs to guide practitioners through the massage treatments in the text. * A valuable addition to the repertoire of any health practitioner. A noninvasive alternative to conventional Western medicine, Chinese pediatric massage provides practitioners with greater flexibility in choosing a successful course of treatment to improve the health and energy of children without overwhelming their systems. Chinese pediatric massage has fewer side effects than other forms of treatment, making it more tolerable for children, easier on their parents, and more effective in improving the patient's long-term health.
---
Essentials of Traditional Chinese Pediatrics by Cao Jiming, su Xinming, Cao Junqi ISBN: 7119011863
Essentials of Traditional Chinese Pediatrics systematically expounds the basic knowledge of traditional Chinese pediatrics, and the differentiation of syndromes and treatment of children's diseases. Chinese herbal medicine is the main method of treatment. In order to enhance the therapeutic effects, acupuncture and Chinese massage therapy are also introduced according to actual conditions. This book consists of two parts, namely, "Basic Knowledge of Traditional Chinese Pediatrics" and "Treatment of Diseases." There is an appendix in which Chinese massage therapy for children is introduced. An index of the selected recipes and patent medicines is arranged at the end of the book. Pediatricians of both Chinese and Western medicine, and acupuncture and massage practitioners will find this book a highly useful reference text.
---
---