AcupunctureProducts.com - Acupuncture Posters
Set of 8 Acupuncture Meridian Posters 18" X 24" (43.2 cm X 55.9 cm)


(Laminated or Photo Paper)
For the Clinic or Classroom, Details Only Found With This Set
Set of 8 acupuncture meridian wall posters for the twelve main meridians, the Conception vessel and Governing vessel. Each poster measures 18" X 24". These unique meridian charts contain pictures with point locations, list of each point with Chinese name, detailed written point location, indications for each point, Cardinal points, Horary time, five element correspondences, five element phase points and five element command points.
In addition to the meridian information above, the Gallbladder chart contains Chinese hand acupuncture points for headaches. The Heart chart contains locations for Tsing and Source points. The Liver chart contains locations and a description of Alarm and Back-Shu points. The Pericardium chart contains a Five Element Theory description with diagram. The Stomach chart contains a description of the Horary Cycle with diagram.
Great reference and educational set that will get the attention of your patients. They will start asking about all the indications listed on these charts. Androgenous model, as not to offend anyone.
Download sample poster in PDF format HERE.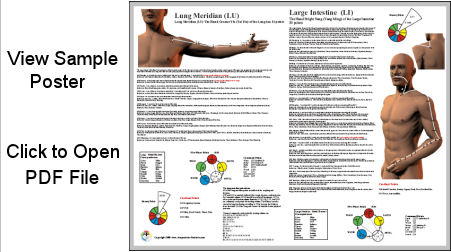 Key Features:
• Pictures with point locations.
• Chinese point name.
• Written anatomical point locations.
• Indications for each point..
• Cardinal points.
• Horary time for each meridian.
• Five element correspondences.
• Five element phase points.
• Five element command points.

Set of 8 Acupuncture Meridian Posters 18" X 24"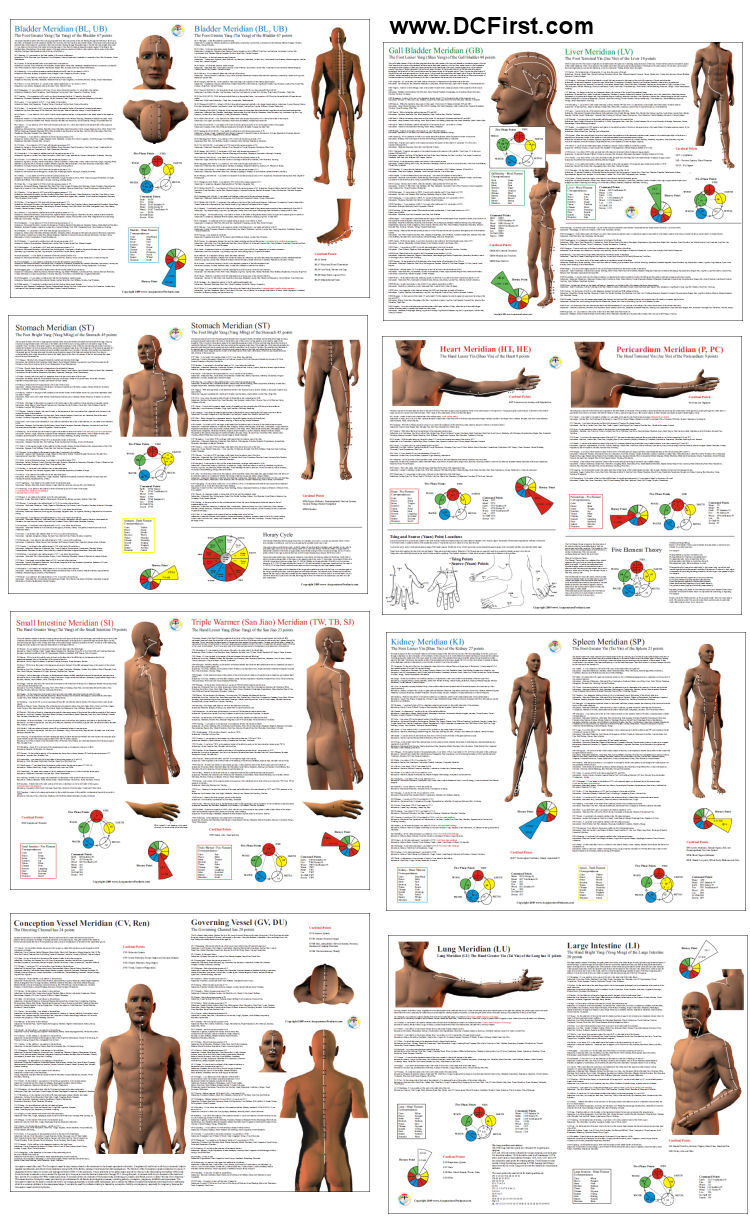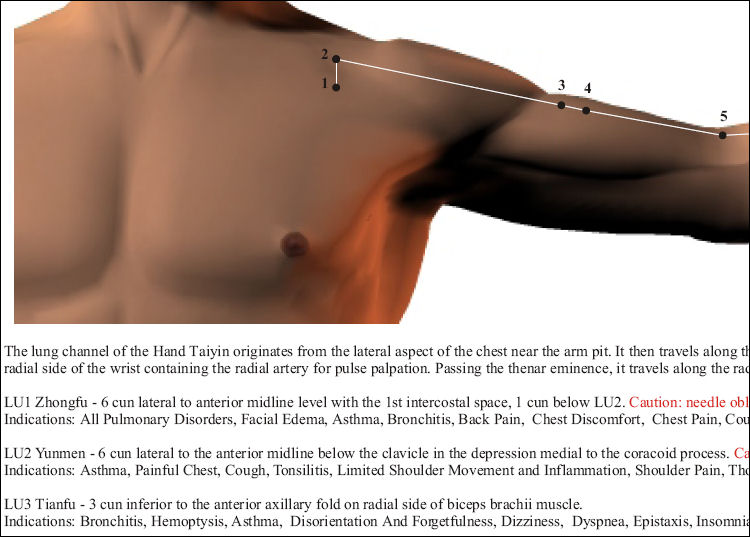 Set of 8 Acupuncture Meridian Posters, 18" X 24" (43.2 cm X 55.9 cm) Each
Please check your shipping address before completing your transaction with Paypal!


Money back guarantee on all orders.
Set of 8 Acupuncture Meridian Posters 18" X 24" Each

Heavy Weight Paper

$96.00

+ Shipping

Set of 8 Acupuncture Meridian Posters 18" X 24" Each

Laminated

$128.00

+ Shipping
View our other Acupuncture Meridian Posters to find the best set for your office.
---