Acupuncture and TCM Books
Yamamoto New Scalp Acupuncture: Principles And Practice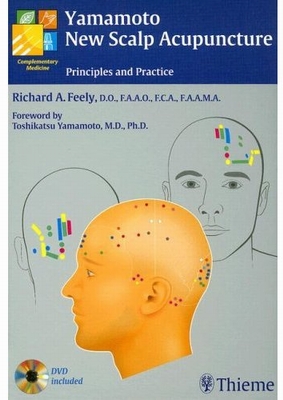 Yamamoto New Scalp Acupuncture:
Principles And Practice

Check New and Used Prices
by Richard A. Feely
Description
This book advances the theory and techniques developed by Dr. Toshikatsu Yamamoto to treat patients with musculoskeletal and neurological pain. It provides a concise overview of Dr. Yamamoto's principles of scalp acupuncture, with complete descriptions of Basic points, Ypsilon points, as well as new points developed by the author. Discussion of indications, contraindications, diagnosis, needling techniques and selection, and possible side effects provide the practitioner with the key information needed to determine the most effective treatment protocols for each patient.
Highlights of this text:
- An accompanying DVD with instructional videos facilitates comprehension of the palpatory, diagnostic, and therapeutic techniques in the YNSA system
- A laminated chart insert distinguishes YNSA points in color and serves as a convenient tool in the clinical setting
- More than 70 figures and algorithms supplement textual descriptions of points and treatments
- A chapter on the correlative theoretical principles of Traditional Chinese Medicine and YNSA treatments helps the practitioner gain a firm understanding of important concepts
- An ideal text for beginners, Yamamoto New Scalp Acupuncture places special emphasis on the ease with which newcomers can integrate YNSA treatments into everyday practice. This book is an essential resource for pain specialists and practitioners seeking to enhance their patient care.
Table of Contents
Foreword by Toshikatsu Yamamoto, MD
Preface by Richard A. Feely, DO
1. Introduction to Yamamoto New Scalp Acupuncture (YNSA)
2. Traditional Chinese Medicine (TCM) and YNSA Theories
3. Indications, Contraindications, and Side Effects of YNSA
4. YNSA Neck Diagnosis
5. YNSA Basic Points - Anatomical
6. YNSA Ypsilon Points - Meridian Points
7. YNSA Special Points
8. Needling Techniques and Selection
9. YNSA Treatment Protocols
10. YNSA Protocol and Practical Procedures
11. YNSA Treatment
12. Case Reports
APPENDICES
A. Composite YNSA Charts: Basic and Ypsilon Points
B. Musculoskeletal/YNSA Acupuncture Progress Note
C. Resources
Reviews
"This must-have book is clearly written, well organized, and represents a golden opportunity to add Yammamoto New Scalp Acupuncture (YNSA) to one's acupuncture armamentarium. Whether your preferred learning mode is well-crafted prose, illustrations, algorithms, or step-by-step "live" demonstrations on the enclosed DVD, this small volume offers it all. ...Rewarding and succintly presented...20+ pages [in the second segment of the book] offer a rich summary of many complex ideas... I found this book to be an excellent reference work, extremely well organized, and I greatly enjoyed the small touches such as the appendices and the Chinese proverbs that bracket each chapter. Feely's readily apparent mastery of the principles of TCM, Five Elements, and French Energetics, and his facility for explaining them, helped to ground scalp acupuncture in an innovative, logical approach consistent with the major fields of Oriental Medicine. I heartily recommend adding this slim volume to your acupuncture library and adding the techniques to your daily practice."--Medical Acupuncture
"An interesting introduction to a new technique that certainly deserves further study."--The Lantern
Page Views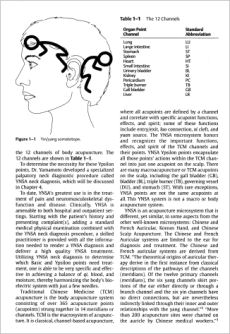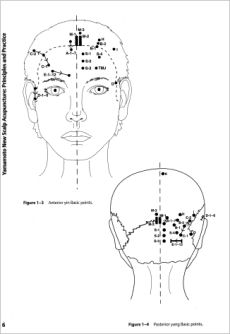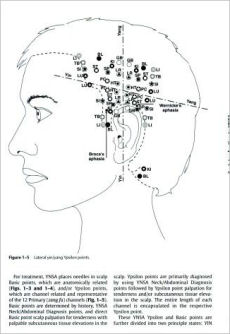 Yamamoto New Scalp Acupuncture:
Principles And Practice

Check New and Used Prices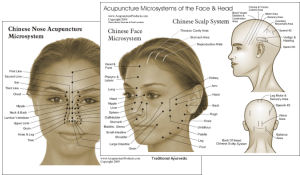 Microsystems of the Face and Head
Acupuncture chart of the microsystems of the face and head. Chinese face microsystem, Chinese scalp system, Chinese nose system, Teeth organ relationship and lip microsystem from traditional Ayurvedic.