Acupuncture and TCM Books
The Systematic Classic of Acupuncture and Moxibustion: Huang-Ti Chen Chiu Chia I Ching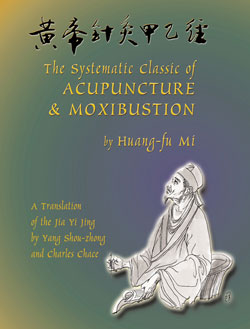 The Systematic Classic of Acupuncture and Moxibustion

Check New and Used Prices
by Mi Huang-Fu (Author), Shou-Zhong Yang (Author), Charles Chace (Author)
DESCRIPTION: This book, the first clinical textbook of acumoxa therapy which dates from the 3rd century, is one of the four great Chinese acupuncture classics. This book is so authoritative that it has provided the framework and standard for all subsequent acupuncture textbooks in China. It contains all the most important passages of the Su Wen and Ling Shu, collated, edited, and arranged according to topic. It is the one acupuncture classic that every acupuncturist should own.
The Table of Contents
Treatise on Essence, Spirit & The Five Viscera
The Twelve Channels, Including Their Connecting Vessels & Branches
Point Locations
Pulses
Prohibitions of Acumoxatherapy
Great Treatise on the Eight Orientations, Eight Vacuities & Eight Winds
Cold Damge & Febrile Disease
On Transmission of Disease Among the Five Viscera Producing Cold & Heat
Great Cold Penetrating into the Bone Marrow
The Contraction of Disease by Yin Causing Bi
Cold in the Chest Producing a Regularly Interrupted Pulse
Yawning, Retching, Sobbing, Shivering with Cold, Belching, etc.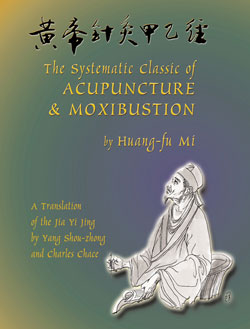 The Systematic Classic of Acupuncture and Moxibustion

Check New and Used Prices