Acupuncture and TCM Books
Principles and Practice of Phytotherapy: Modern Herbal Medicine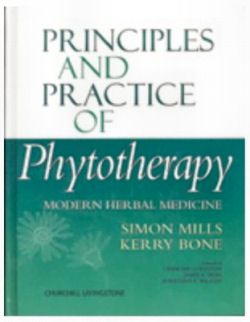 Principles and Practice of Phytotherapy:
Modern Herbal Medicine

Check New and Used Prices
by Simon Mills, Kerry Bone
Description
This book provides a detailed, practical and, where possible, research-based rationale for the use of herbal treatments in a wide variety of clinical conditions and problems. Through the filter of current scientific literature, the authors have reevaluated traditional use of herbal remedies and present realistic guidelines for modern practice. A uniquely authoritative guide to applying herbal medicines as serious options for the treatment of some of the most troublesome conditions seen today.
Key Features
In particular, this book gives:
- A clear description of the principles and foundations for the practice of phytotherapy.
- In-depth and detailed profiles of over 45 herbs, reviewing pharmacology, research, and traditional use.
- Therapeutics for actual disease states, supported by case histories.
- Coverage of challenging issues such as dosage, safety, and drug-herb interactions.
Table of Contents
PART 1 BACKGROUND and STRATEGIES: Traditional Herbal Therapeutic Systems. Principles of Herbal Pharmacology. Principles of Herbal Treatment. Herbal Diagnosis. Validating Herbal Therapeutics. Optimising Safety.
PART 2 PRACTICAL CLINICAL GUIDES: Dosage Issues. Herbal Approaches to Pathological States. Herbal Approaches to System Dysfunctions. A Systematic Approach to Herbal Prescribing.
PART 3 a MATERIA MEDICA: Herb Monographs Bibliography. Actions Index. Symtoms and Conditions Index.
Author Information
By Simon Mills, MCPP, FNIMH, MA, Director, Centre for Complementary Health Studies, University of Exeter, Exeter, UK; Chairman, British Herbal Medicine Association; Secretary, European Scientific Cooperative On Phytotherapy (ESCOP); and Kerry Bone, MCPP, FNHAA, FNIMH, DipPhyto, Bsc(Hons), Head of Research and Development, MediHerb (Pty) Ltd, Warwick, Queensland, Principal, Australian College of Phytotherapy, Australia. Forewords by: Desmond Corrigan, FRSI, FLS, PhD, MA, Bsc (PharmD), Senior Lecturer in Pharmacognosy; Director, School of Pharmacy, Trinity College, Dublin; Irish Association of Phytotheraphy, Dublin, Eire; James A. Duke, Ethnobotanist, Maryland; Formerly United States Department of Agriculture; Jonathan V. Wright, MD, Medical Director, Tahoma Clinic, Kent, WA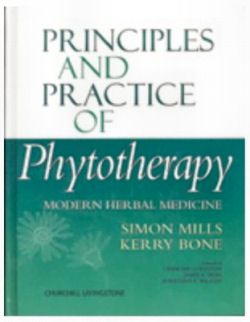 Principles and Practice of Phytotherapy:
Modern Herbal Medicine

Check New and Used Prices