Acupuncture and TCM Books
Points for Profit:
The Essential Guide to Practice Success for Acupuncturists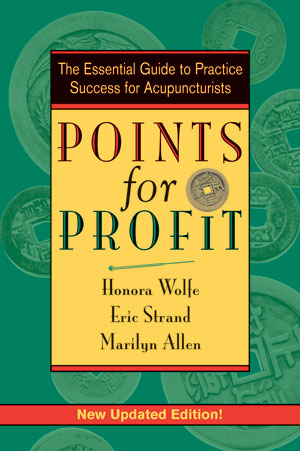 Points for Profit:
The Essential Guide to Practice Success for Acupuncturists

Check New and Used Prices
by Honora Lee Wolfe
If you are starting a practice for the first time or your existing practice needs a kick-start, this is the book/CD Rom package you need. 400 pages.
It covers everything you need to know about the business of practicing acupuncture and Chinese medicine. Used by over 25 schools as a required text, the companion CD Rom alone is worth the price.
- advice and stories from real practitioners all over the U.S. and Canada.
- scores of pages of downloadable forms, letters, work sheets, and templates on the CD Rom so you don't have to invent them yourself.
- a well-organized, easy-to-read, compact and humor-filled writing style.
- condensed "points to ponder" at the end of each chapter.
- hundreds or resources, websites, and tips to make your professional life easy
- Many effective marketing ideas.
- New chapter on buying and selling a practice.
Table Of Contents
SECTION ONE: GETTING UP AND RUNNING
Chapter 1 Welcome & Introduction
Chapter 2 First Things First: Setting Goals
Chapter 3 What Could You Be Doing While You're Still in School?
Chapter 4 Legal Stuff you Need to Know and Do
Chapter 5 Methods of Practice and Business Models
Chapter 6 Clinic Partners
Chapter 7 Working for Other Practitioners, Clinics, or Hospitals
Chapter 8 Going Where Your Skills Are Needed
Chapter 9 Think About Specialization
SECTION 2: WORKING ON YOUR OWN
Chapter 1 Business Basics
Chapter 2 Setting Your Fees and Managing Your Budget
Chapter 3 How Much $$ Do You Need to Get Started?
Chapter 4 Finding Space and Negotiating a Lease
Chapter 5 Creating a Business Plan for Your Clinic
Chapter 6 The Look and Feel of Your Clinic
Chapter 7 Outside the Doc-in-a-Box
Chapter 8 Files and Recordkeeping
Chapter 9 The Wonderful World of HIPAA
Chapter 10 Hiring and Keeping People to Work for You
Chapter 11 Patient Management or How Do You Keep Them Coming Back Happy?
Chapter 12 Using the Services of Other Professionals
SECTION THREE: GETTING PAID
Chapter 1 Attitudes About Money
Chapter 2 Methods of Payment for Your Patients
Chapter 3 The Ins and Outs of Billing Insurance
Chapter 4 Personal Injury Patients: Yes or No?
Chapter 5 Working with Worker's Compensation
Chapter 6 Selling Products from Your Clinic
SECTION FOUR: MARKETING YOUR PRACTICE
Chapter 1 Marketing From Day One: First Things First
Chapter 2 Marketing Inside Out
Chapter 3 Community Team Builders and Marketing
Chapter 4 Building & Using a Mailing List
Chapter 5 Creating Your Presentation Folder
Chapter 6 Using Press Releases
Chapter 7 Marketing Odds and Ends
Chapter 8 Growing Your Life… Avoiding Burn Out
Chapter 9 Conclusion
Resources for going further (books, classes, websites)
Book Review by
Dr. Janice Ledgerwood, DOM
This profit-conscious book is based on Honora Lee Wolfe´s and Marilyn Allen´s powerful seminar "How To Make $100, 000 A Year Practicing Acupuncture'. I tend to think seminars are more useful than books. Seminars are immediate—informative, and really 'alive´! I usually go home charged up and ready for action. Having taken the seminar, and now, after reading the book, I disagree with myself. The book is vastly more useful because I can pick it up and put it down, as a reference and as a motivating force. The writing style is conversational—like a seminar, like a good visit with an experienced consultant. The authors of Points for Profit, talk to you, tell you things you need to know, and answer your questions. The layout is inviting, organized from goal setting, to what to do while still in school, to avoiding burnout. In each chapter there are inset boxes such as Practitioner Pointers, Power Points, Points to Ponder which contain highlights of topics discussed in the chapters. There is an impulse to cut them out and tape them up on your mirror.
Reviewing this book has been a challenge. Each chapter has given me something useful. Chapters on business basics, patient management, and hiring employees have made me rethink the structure of my practice. Other topics on insurance billing, looking at attitudes about money, and selling products in the office have offered new ideas about problem solving. The marketing ideas are fresh and easy to put into place. A Power Point inset has a reference for a book: Six Steps to Free Publicity. The only in-depth topic that is 'missing´ is the buying and selling of a practice. (There is a website listed for those who want to sell their business. When I went to the site the information was for Chiropractors and Dentists. The owners of the website were a chiropractor and a business broker. Nothing about Acupuncture.) As with many current publications, Points for Profit has an impressive list of resource in the back of the book. Books, classes, websites. If you cannot find what you want in the text, you can probably track it down in 'Resources For Going Further'.
A CD accompanies this book. On the CD are downloadable forms from intake to letters of thanks. There is a 41-page business plan guide, which covers every step of writing business plan, containing things you may have missed on your first business plan.
Should you get this book? YES! I cannot think of any practitioner I know who wouldn´t pick up momentum from the dedication and integrity of the authors.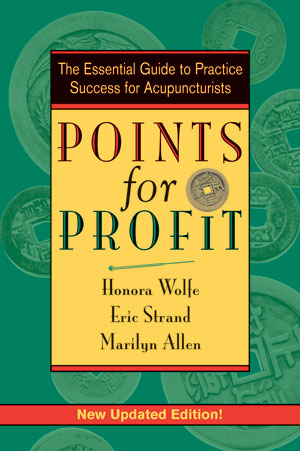 Points for Profit: The Essential Guide to Practice Success for Acupuncturists

Check New and Used Prices