Acupuncture and TCM Books
Microsystems Acupuncture:
The Complete Guide: Ear-Scalp-Mouth-Hand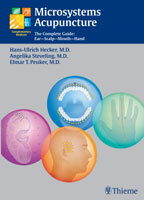 Microsystems Acupuncture:
The Complete Guide: Ear-Scalp-Mouth-Hand

Check New and Used Prices
352 pp, 344 color and b/w photographs, hardcover.
Description
In the last fifty years, microsystem acupuncture has emerged as a safe and effective therapeutic option for a wide range of conditions, from cardiovascular and neurological disorders to obesity and nicotine dependence. Its worldwide acceptance is largely due to the ability of microsystem acupuncture to provide access for treatment, even in the event of extreme local sensitivity to pain.
This book is a comprehensive overview of ear, scalp, mouth, and hand acupuncture to help you understand the relationships between these microsystems and the body. Integrating new and established methods, the book covers such topics as Yamamoto New Scalp Acupuncture, Korean hand acupuncture, and laser acupuncture with concise text and more than 350 photographs to allow for instant localization of all zones and points. The range of techniques addressed makes this one-of-a-kind work ideal for busy students and practitioners looking for an overview of some of the most rapidly growing and innovative advances in acupuncture and complementary medicine.
Table of Contents
1—Basic Principles of Auricular Acupuncture
2—Topography and Indications of Auricular Acupuncture Points According to Regions
3—Treatment of Major Illnesses
4—Diseases of the Locomotor System
5—The Medical Treatment of Addiction Using Acupuncture
6—Yamamoto New Scalp Acupuncture
7—Chinese Scalp Acupuncture
8—Oral Acupuncture
9—Korean Hand Acupuncture
10—Chinese Hand Acupuncture
11—New Point-Based Pain and Organ Therapy (NPPOT)
12—Laser Therapy
Preface
For the first time a book has been published which discusses all of the relevant microsystems of acupuncture in practice today. In addition to ear acupuncture, where both Western schools according to Nogier and Bahr as well as Chinese schools are considered, special chapters are given to the following; Chinese Scalp Acupuncture, Yamamoto New Scalp Acupuncture, Mouth Acupuncture, Chinese Hand Acupuncture, Korean Hand Acupuncture, and New Point-Based Pain and Organ Therapy. In addition, the use of laser acupuncture and addiction treatment used with acupuncture is also considered.
The proven team of editors of the Color Atlas of Acupuncture and Practice of Acupuncture has been successful in gaining international recognition as acupuncture specialists through this book. The authors who have contributed to this book have been active in the field of acupuncture training for many years across various disciplines. In many cases, they also teach in universities as lecturers or heads of institutes. Microsystems Acupuncture highlights the most recent views on the diagnoses and therapies used for different somatotopies. The didactical concept, which has been developed by the team of editors and proven in practice, is a guarantee for your learning success.
We would like to thank all of our colleagues who were involved in this book project. We thank Axel Nikolaus for the photographic conversion and Mr Wunderlich for the graphic organization. Last but not least, we give special thanks to our editor, Angelika-Marie Findgott, whose wealth of experience and linguistic authority made the translation and update of this standard textbook possible.
Hans-Ulrich Hecker
Angelika Steveling
Elmar T. Peuker
Page Views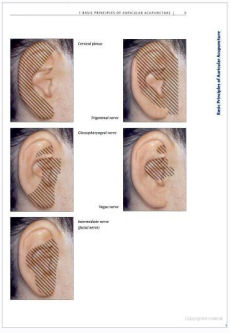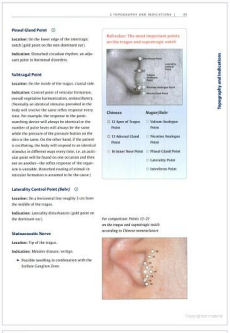 Microsystems Acupuncture: The Complete Guide: Ear-Scalp-Mouth-Hand

Check New and Used Prices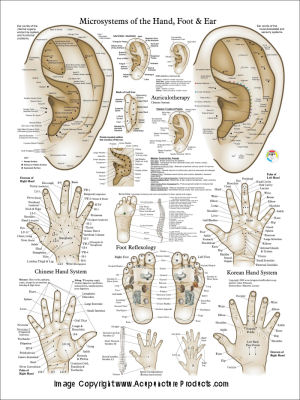 Microsystem Poster 18" X 24"
Chinese auriculotherapy points, ear anatomy, NADA addiction pointsmaster control points with indications for the master control points.