Acupuncture and TCM Books
Cosmetic Acupuncture:
A TCM approach to cosmetic and dermatological problems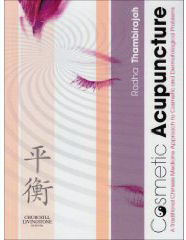 Cosmetic Acupuncture: A TCM approach to cosmetic and dermatological problems

Check New and Used Prices
by Radha Thambirajah
A practical handbook for the diagnosis and treatment of cosmetic and skin problems according to Traditional Chinese Medicine. This book presents the TCM theory that provides the rationale behind the choice of treatment and offers step-by-step instruction on how to treat cosmetic and skin problems through the use of acupuncture. The needling techniques for face lifting, cellulites and more are described clearly and the text is supported by illustrations showing the techniques.
Table of Contents
About the author. Preface.
Chapter 1 - The Blood, Yin, Yang and Qi in all organs.
Chapter 2 - Skin types.
Chapter 3 - The Five Elements and their association with skin.
Chapter 4 - Lung ascends and descends water.
Chapter 5 - Acupuncture points, needle techniques and extraordinary therapies used in the treatment of dermatological and cosmetic problems.
Chapter 6 - Common dermatological diseases - their analysis and therapy.
Chapter 7 - Cosmetic acupuncture.
Chapter 8 - Notes for patients.
Chapter 9 - A personal note. Glossary. Index.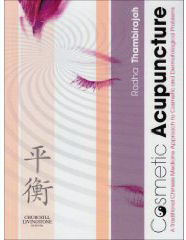 Cosmetic Acupuncture: A TCM approach to cosmetic and dermatological problems

Check New and Used Prices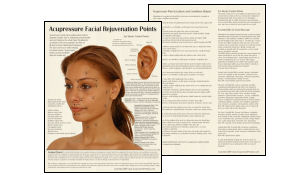 Acupressure Facial Rejuvenation Points Chart
Acupressure Facial Rejuvenation Points help to promote healthy skin by improving overall health and well being to the whole body. Treating the acupoints of the face promotes the flow of Qi and increases blood flow throughout the skin on the face while helping remove toxins.