Acupuncture and TCM Books
Chinese and Related North American Herbs:
Phytopharmacology and Therapeutic Values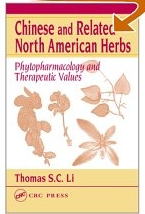 Chinese and Related North American Herbs:
Phytopharmacology and Therapeutic Values

Check New and Used Prices
By Thomas S.C. Li
- Covers more than 1800 significant Chinese medicinal herbs and 700 related North American herbs.
- Compares Chinese and related North American herbs in active ingredients and therapeutic values.
- Information gathered from both Western and Chinese sources.
- Easy-to-use tables and cross-referencing indexes.
Covering 1800 species of Chinese herbs and 700 related North American species, Chinese and Related North American Herbs: Phytopharmacology and Therapeutic Values provides clearly formatted tables that give you quick and easy access to information gathered from a wide variety of sources, both eastern and western, including those not generally available through usual searches.
Written by the author of Medicinal Plants this book:
· Presents the major constituents and therapeutic values of Chinese medicinal herbs
· Contains data on toxicity, major chemical components and their therapeutic values
· Provides Latin, Chinese, and English names for more than 1800 species
· Includes three appendices that provide handy cross-references: Chinese and scientific names; major chemical components of Chinese herbs, and major chemical components of related North American herbs
· Highlights the relationship between Chinese and North American medicinal herbs and possible replacements for Chinese with North American herbs
· Compares active ingredients and claimed therapeutic values
The wealth of information, attention to detail, and extensive research and references presented by Chinese and Related North America Herb: Phytopharmacology and Therapeutic Values makes it the resource to have on your shelf.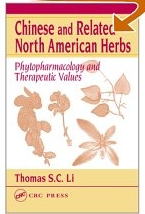 Chinese and Related North American Herbs:
Phytopharmacology and Therapeutic Values

Check New and Used Prices