Acupuncture, TCM & Health Books
Auriculotherapy Manual:
Chinese and Western Systems of Ear Acupuncture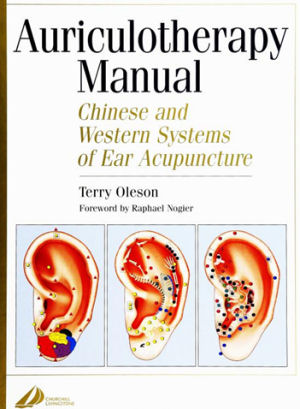 Auriculotherapy Manual: Chinese and Western Systems of Ear Acupuncture

Check New and Used Prices
by Terry Oleson
Description
Both new and experienced practitioners of Auriculotherapy have found this comprehensive manual to be one of the most clinically useful texts on ear acupuncture. This handbook combines the best work of Chinese and French systems of Auriculotherapy. Medical doctors, chiropractors, acupuncturists, physical therapists, reflexologists, dentists and nurses have applied the principles in this manual to successfully relieve chronic pain and treat addictions.
The ear reflex points presented in this handbook are based upon extensive research conducted at the UCLA Pain Management Center. This text provides a standardized auricular nomenclature system for designating different anatomical zones of the ear. Each ear reflex point is represented by both a number and an auricular zone location. Treatment plans are listed for over 250 medical conditions.
Key Features
- Detailed descriptions are offered on the principles and practice of auriculotherapy.
- Exceptionally illustrated, it features drawings and photos that are easily interpreted.
- A wide range of types and principles of ear acupuncture are presented.
- The author is a well-known and respected auriculotherapy teacher.
Table of Contents
Overview and history of auriculotherapy
Theoretical basis of auriculotherapy
Anatomy of the auricle
Auricular zones
Somatotopic representation on the ear
Nogier phases of auricular medicine
Auricular diagnosis procedures
Auriculotherapy treatment techniques
Auriculotherapy treatment protocols
Treatment protocol index
Index of ear reflex points
Auriculotherapy Manual: Chinese and Western Systems of Ear Acupuncture

Check New and Used Prices
---
Comprehensive wall chart of the holographic ear reflex points. Laminated poster 24" X 38". Surface and hidden views of the ear are shown for over 200 ear points, indicating both Chinese and french locations on the external ear.
This chart can accompany the Auriculotherapy Manual by Terry Oleson.



Ear Reflex Points Wall Chart 24" X 38"

Check New and Used Prices
---