Acupuncture and TCM Books
Acupuncture in the Treatment of Depression:
A Manual for Practice and Research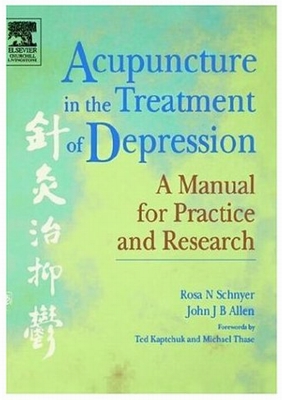 Acupuncture in the Treatment of Depression:
A Manual for Practice and Research

Check New and Used Prices
By Rosa N. Schnyer, John J.B. Allen, Sabrina K. Hitt and Rachel Manber
This pioneering book unites both western and traditional Chinese medicine to present a step-by-step methodology for evaluating and treating depression with acupuncture. Using research-oriented trials, it addresses fundamental issues in acupuncture research and offers guidelines for the design of acupuncture treatment studies.
Table of Contents
Background and context
Depression defined: symptoms, epidemiology, etiology and treatment
Chinese medicine theory
The etiology of depression according to traditional Chinese medicine
The application of traditional Chinese medicine in the diagnosis and treatment of depression
Case histories of individuals who responded to treatment
Research considerations
Issues in implementation
Case histories of individuals who did not respond fully to treatment.
Author Information
Rosa N. Schnyer, DiplAc, Senior Research Associate, College of Social and Behavioral Sciences, Department of Psychology, University of Arizona, Tucson, AZ;
John J.B. Allen, PhD, Associate Professor, College of Social and Behavioral Sciences, Department of Psychology, University of Arizona, Tucson, AZ;
Sabrina K. Hitt, PhD, Reseach Associate, College of Social and Behavioral Sciences, Department of Psychology, University of Arizona, Tucson, AZ;
Rachel Manber, PhD, Assistant Professor, Department of Psychiatry, University of Stanford, Stanford, CA; Forewords by Ted J. Kaptchuck, OMD, Assistant Professor of Medicine, Harvard Medical School, Boston, MA; and Michael E. Thase, MD, Professor of Psychiatry, University of Pittsburgh School of Medicine, Pittsburgh, PA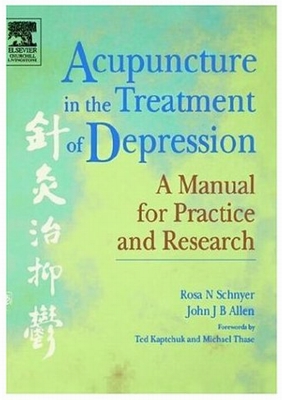 Acupuncture in the Treatment of Depression:
A Manual for Practice and Research

Check New and Used Prices