Acupuncture and TCM Books
750 Questions & Answers about Acupuncture
Exam Preparation & Study Guide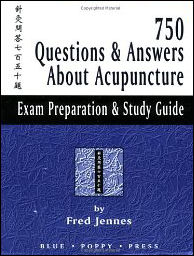 750 Questions & Answers about Acupuncture
Exam Preparation & Study Guide

Check New and Used Prices
DESCRIPTION: This workbook is for students who are preparing for the NCCAOM Board exams and for licensed practitioners who wish to bone up on both point location and theory. All questions are written in Board Exam format and there are many questions using illustrations to test the reader's visual knowledge of point location as well.
Fred Jennes, M.Ed., L.Ac., Dipl.Ac. & C.H., received his B.A. and M.Ad. from Duke Univeristy. He has had wide experience in both teaching and curriculum design in various areas of higher education. He has also worked as a researcher and systems analyst at Duke Univeristy Medical Center. Since completing his training in acupuncture and Chinese herbal medicine, Fred has served on the governing board of the Acupuncture Association of Colorado, is currently a site visitor for the Accreditation Commission for Acupuncture and Oriental Medicine (ACAOM), and is both a faculty member and advisory board member of Colorado School of Traditional Chinese Medicine in Denver, CO.
This book is a series of questions and answers that serve as mental calisthenics to strengthen and build the Chinese medical student's knowledge base. While it makes an ideal tool for the beginning acupuncture student who needs drill and practice to prepare of the NCCAOM Board exams as well as academy proficiency tests, it is also an excellent tool for the seasoned practitioner who needs a periodic review of the basics of acupuncture.
The book is divided into five sections. Section 1, General Theory, tests the reader's academic knowledge in three areas—channel theory, point theory, and acumoxa technique. Section 2, Point Theory, examines the reader's knowledge of how the points function—both individually as well as when combined with other points. Section 3, Mixed Channels, Section 4, Point Location, assesses the reader's skill in finding the primary channel acupoints as well as the non-channel and ear acupoints. And Section 5, the Case Studies section, combines the reader's knowledge of the prior three sections and calls upon the reader to select the appropriate point prescription for a number of real-life cases.
At the end of the book is a key that provides the reader with the answers to the questions posed by each section. As any practiced student of acupuncture knows, there is not always one answer to every Chinese medical question. An examination of any of the leading textbooks of acupuncture shows that there are many differences of opinions as to the location and function of the acupoints, as well as to the appropriate prescriptions for the multitude of Chinese medical patterns of disease. To solve this problem, I selected four leading textbooks and sought consensus among them in generating questions and answers. These are Cheng's Chinese Acupuncture and Moxibustion (a.k.a. CAM, 1999 revised edition), Deadman and Al-Khafaji's A Manual of Acupuncture, O'Connor and Bensky's translation of Acupuncture: A Comprehensive Text (a.k.a. Shang Hai, 1981 edition), and Flaws and Finney's Compendium of TCM Patterns and Treatments. My hope is that by relying on both the knowledge and the wisdom of my forebears, I have produced a text which is both accurate and useful.
May your study of Chinese medicine be fruitful and stimulating. And may this text provide you with many answers and further questions into the exciting world of acupuncture.
750 Questions & Answers about Acupuncture
Exam Preparation & Study Guide

Check New and Used Prices